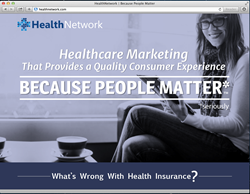 Based on data provided to us by our partners, our enrollment rate with the 18 to 34 demographic was almost double that of Healthcare.gov."
(PRWEB) September 17, 2014
Health.Verticalize, a healthcare marketing company which helped more than 15 million people explore their health insurance options in the 2014 open enrollment period, has announced their rebrand to Health Network.
Moving forward Health Network will be using HealthNetwork.com as their corporate website. The company has intentionally remained out of the spotlight for the last twelve months while building its network from a single website to its present position with dozens of targeted sites and millions of visitors.
"We are very excited to announce our official rebrand from Health.Verticalize, to Health Network and the launch of our corporate website on HealthNetwork.com," said Sean Sullivan, CEO and Founder of Health Network. "What originally started a little less than twelve months ago as a result of an academic analysis of what was missing from the healthcare shopping experience, has resulted in the creation of something far greater than we could have ever imagined. In less than a year, this company has grown from a single website with little traffic, to being the fastest growing healthcare marketing company in the U.S. with the highest enrollment among key 18 to 34 year olds."
During the 2014 open enrollment season, Health Network's websites had more than 15 million visitors and 100 million page views, helping millions of Americans by providing factual, unbiased information regarding their healthcare options. Based on data provided by their partners, Health Network's enrollment rate among young adults 18 to 34 was almost double that of Healthcare.gov and nearly 15% higher than eHealthInsurance (EHTH), a leading online health insurance brokerage whom the Washington Post highlighted in March for their effectiveness with the 18 to 34 demographic.
"Health Network's efforts have resulted in the development of industry leading technology that helps simplify the process of exploring one's healthcare options for the first time," said Health Network's CMO, Mike Schrobo. "The end result of our collective efforts provides consumers with transparency and choice and the ability to enroll in a healthcare plan online, over the phone or with the assistance of a licensed agent in person. In addition to that, we have always maintained very strict guidelines that ensure that our partners will respect the consumer's experience and their personal data."
In the next few weeks Health Network will be announcing new tools and websites that will make the process by which consumers and agents connect with one another a much better experience for both parties. Agents will have access to tools that will help them provide a better consumer experience and increase their ability to not only enroll consumers in a plan, but retain that consumer as a client indefinitely.
The company is also aggressively expanding their reach in the over 65 market (Medicare eligible) by recently launching MedicareEnrollment.com and Medicare.net, the latter of which will provide seniors with direct access to agents who are specifically focused on helping seniors understand their options when it comes to Medicare.
Overall, Health Network projects that they will help more than 25 million Americans answer questions about their healthcare options and obtain the information they need, in this coming enrollment season.
Health Network is based out of Palm Beach Gardens, Florida and is in the process of opening offices in Palo Alto, California.
About Health Network:
Health Network is a healthcare marketing company with over 15 million visitors across its network of websites in 2014. Health Network also has a unique mission of improving the consumer experience in health insurance by respecting consumer privacy and preventing aggressive sales methods by traditional industry companies. Health Network is entirely focused on helping individuals obtain healthcare and consequently improve their lives. Learn more at HealthNetwork.com