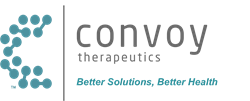 Oro Valley, Arizona (PRWEB) September 16, 2014
Convoy Therapeutics, Inc., a specialty biopharmaceutical company that develops safe and effective products to treat patients directly at the site of disease through the use of a proprietary SPACE™ Technology Platform announced today that John Muraski, Ph.D., Chief Executive Officer and President will present at the White Hat Life Science Investor Conference™ on September 18, 2014 at the Hyatt Regency Phoenix. In addition, interested individuals can meet Convoy Therapeutics representatives at a the AZBio Awards Company Showcase being held in the Phoenix Convention Center (North Ballroom) on September 17, 2014.
The White Hat Life Science Investor Conference™ (http://www.WhiteHatInvestors.com) is an investor and partnering conference that brings together healthcare companies, investors along with pharmaceutical and medical technology executives. Presenting Companies were selected by a panel of investors from applications relating to therapeutics, diagnostics, medical device and health IT companies from across the Rocky Mountain Southwest region.
Convoy Therapeutics' proprietary SPACE™ peptide delivery platform offers a non-invasive, flexible system for use with a wide range of molecules to improve delivery and retention of therapeutic molecules in the skin; creating better topical products for use in dermatology. In contrast to other competing technologies, active therapeutic or cosmetic component molecules remain in the skin for longer, enhancing the local effect while limiting systemic exposure and off-target side effects.
On September 17, 2014, Convoy Therapeutics, Inc. will be exhibiting at the AZBio Awards Company Showcase from 3:00 – 6:00 PM. The Company Showcase will be held at the Phoenix Convention Center – North Ballroom. More information is available at http://www.AZBioAwards.com.
About Convoy Therapeutics
Convoy Therapeutics is a biopharmaceutical company focused on unmet needs in the medical dermatology and aesthetics markets, using cutting edge science to solve significant problems and provide optimized outcomes for patients. The company's transformative products are based on its proprietary family of SPACE™ peptides and formulation techniques, which provide exceptional enhancement of macromolecule penetration into the skin, and also enhance the localization and retention of small molecules in the skin for extended duration of action.
Convoy's lead programs are CycloPsorb™, the first topical formulation of cyclosporine for psoriasis and eczema, and Khalay HA™, a topical hyaluronic acid filler for the rapid treatment of fine lines and wrinkles. Convoy's groundbreaking product development program also includes future products for eczema, acne, rosacea and pigmentation. For more information visit the website at http://www.convoytx.com
About The White Hat Life Science Investor Conference™
Bringing together top investment opportunities from across the Rocky Mountain Southwest region, White Hat is a collaboration between the BIO Affiliates of Arizona, Colorado, Utah, Montana, Nevada, and Southern California along with the National Venture Capital Association. Additional information is available at http://www.WhiteHatInvestors.com
Convoy Therapeutics Contact:
Ann Deren-Lewis
Vice President of Business Development
520-333-6844
aderenlewis@convoytx.com
White Hat Contact:
Joan Koerber-Walker
Arizona Bioindustry Association
jkw@azbio.org 480-332-9636