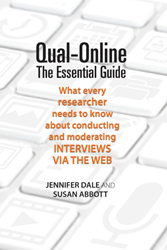 A highly engaging read!
Ithaca, NY (PRWEB) September 23, 2014
Qualitative researchers and marketers alike are grabbing their copies of "Qual-Online," calling it a "must have handbook" for their business.
Shaili Bhatt, a rising young Research Director at C+R Research pays tribute to the pioneers that came before her. "Over a decade of online qual exploration led to this work... it's absolutely essential to know the opportunities and challenges with each of the designs and technologies presented."
For researchers and marketers alike, the new business book takes readers on an entertaining tour of all the possibilities for online interviewing and qualitative data collection. Full of practical, hands-on tips, even those experienced in qual online will find new approaches and exercises to engage respondents.
From learning about the types of web interviewing tools available, to planning an online research study in detail, this extensive guide will help readers understand how different approaches yield different communication experiences and how to choose the best method for your study.
Filled with real-world case studies and humorous tips and anecdotes, Qual-Online is sure to be referenced again and again by marketing decision makers.
Qual-Online, the Essential Guide is available for pre-order online at Amazon and Paramount Books. Published by Paramount Market Publishing in Ithaca, NY. For more information, contact James Madden, Publisher.
About InsideHeads
InsideHeads is a full-service online market research company since 1998 with experience developing surveys and platforms for moderating online focus groups.
About Abbott Research
Abbott Research + Consulting is a boutique consultancy specializing in customer insight and discovery-driven innovation.