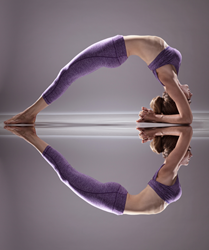 "I may be the one getting married, but my customers are the ones getting the gifts." Ada Hung
Los Angeles, CA (PRWEB) September 16, 2014
BaliniSports Founder Celebrates Wedding by Offering an Unprecedented Discount Event
Wedding bells are about to ring for BaliniSports founder and president, Ada Hung. Ms. Hung is set to walk down the aisle during a highly anticipated ceremony on September 20th. In addition to friends, family and fashion industry insiders, many members of the BaliniSports family will be in attendance. BaliniSports has decided to celebrate the occasion by offering discounts of up to 50 percent on all merchandise on the brand's website. Shoppers can browse from a vibrant collection that includes yoga pants, bras, tank tops, and shorts.
"I may be the one getting married, but my customers are the ones getting the gifts," said Hung. "I want to share this celebration with the yoga community by offering an unprecedented discount offer to anyone who purchases merchandise from the BaliniSports website for this limited window of time. This is my way of letting all my loyal customers know that dreams really do come true."
Hung's dream has been a long time in the making. The entrepreneur behind BaliniSports worked hard to earn her designs the right to be sewn to life by the same bluesign® certified manufacturers that create the world's leading sports brands. As a newcomer to the apparel scene, Hung discovered that major manufacturers were wary of taking on the production of her line. While they were impressed by her vision, they didn't want to stake their reputations on an unknown apparel company. As part of an agreement, Hung apprenticed for several months to learn all about fabrics and fittings. After extensive training and approval from managers, Hung's designs for BaliniSports finally hit the factory floor and her dream became a reality.
BaliniSports has since become an emerging name in the world of yoga apparel and workout gear. In addition to being a favorite of celebrities and athletes, the brand has also been featured in many influential fitness and fashion publications. The brand is often praised for its use of environmentally friendly fabrics and production techniques. In addition, every piece is made using cutting-edge fabric technology and durable construction. Woman from across the globe choose the brand for its unparalleled support and stylish look.
Hung founded BaliniSports in response to a calling she felt to empower women and live out her own dreams of owning a successful business. As an avid yoga enthusiast, she sees the brand as an opportunity to provide elegant and functional apparel for women to wear on the yoga mat, on a coffee date, or during a casual day at the office. "Of course, I will spend my honeymoon traveling to exotic locations in my favorite pieces from the current BaliniSports line," said Hung.
The discount event featured on the BaliniSports website in honor of Ms. Hung's wedding is expected to create quite a stir. Shoppers are encouraged to visit the website to browse the current selection and learn about the details of the promotion. Hung has promised customers and friends in the fashion community that she will keep them updated about her wedding day on various social media platforms.