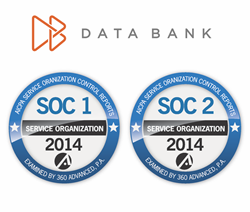 ...We build and maintain facilities and conduct operations to the highest quality and security of services in the industry
Dallas, TX (PRWEB) September 17, 2014
DataBank Holdings, Ltd., a leading custom data center and colocation provider based in Dallas, announced the completion of their annual SSAE 16 (Statement on Standards for Attestation Engagements No. 16 ) audits for SOC 1 (Service Organization Controls) Type 2 examinations for all of the company's data center locations, which includes Minneapolis, Dallas (two locations), and Kansas City (two locations), as well as a SOC 2 Type 1 for all Dallas and Minneapolis locations.
By engaging in the SSAE 16 audit process, DataBank ensures that customers have a move-in-ready, reliable and secure environment. The provided standards confirm that DataBank adheres to strict requirements for infrastructure and data security. In addition, the report helps client organizations manage their own risk and improve overall business performance.
"Conducting these audits for multiple facilities in numerous markets is an intensive but necessary undertaking," said Michael Gentry, VP of Operations for DataBank. "The audit process provides DataBank's clientele with verification that we build and maintain facilities and conduct operations to the highest quality and security of services in the industry."
The examinations were performed by a full-service audit and consulting firm that specializes in integrated compliance solutions, including conducting SOC 1 and SOC 2 examinations. SSAE 16, developed by the American Institute of Certified Public Accountants ("AICPA"), is the most widely recognized authoritative guidance that provides service organizations a uniform method for disclosing independently assessed information about the design and operation of internal controls related to their services. Companies who complete annual examinations are able to demonstrate a substantially higher level of assurance and operationally visibility than those companies who do not.
The Service Auditors' Report issued with an unqualified opinion, demonstrates that DataBank Holdings, Ltd.'s control activities were effectively designed and in operation throughout the reporting period.
To learn more about DataBank, the company facilities, compliance standards, and the company's complete suite of service solutions, please visit the corporate website at http://www.databank.com.
About DataBank
DataBank is a leading provider of enterprise-class data center solutions aimed at providing customers with 100% uptime availability of data, applications and deployed infrastructure. We offer a full suite of hosting solutions including colocation, managed services and cloud solutions that are anchored in world-class secure data center facilities with best of breed infrastructure and highly robust network architecture. Our customized customer deployments are designed to effectively manage risk, improve their technology performance and allow them to focus on their core business objectives. DataBank is headquartered in the historic former Federal Reserve Bank Building, in downtown Dallas, TX and has additional data centers in Dallas, Minneapolis and Kansas City. For more information on DataBank locations and services, please visit http://www.databank.com or call 1(800) 840-7533. ###