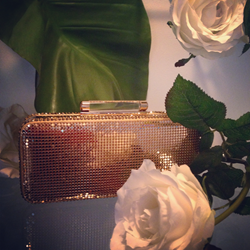 Although embellishment is a regular trend on the autumn/winter catwalks, 2014/15's razzle-dazzle has taken on exaggerated proportions
Los Angeles, Dubai (PRWEB) September 16, 2014
Although embellishment is a regular trend on the autumn/winter catwalks, 2014/15's razzle-dazzle has taken on exaggerated proportions. Larger than life crystals dotted on jackets, chunky adornments positioned prominently on dresses, as seen on catwalks from Dior to Marni's bomber jackets – even Burberry's classic trench has been given a sprinkling of glamour for this coming winter. So, perhaps it's time to take a cue from the catwalk's love of embellishment with Nicoli's luxury crystal embellished designer shoe and bag collection for fall 2014
 
What really defines this season compared with the usual glittering offerings for holiday and winter parties, is how embellishment has even made the leap into casual, sporty and everyday garments as seen on the High Street from J Crew to Zara. Whether it's encrusted shoulders, oversized gems smothering  sweatshirts or a ski jacket speckled in Swarovski crystals – anything goes as long as it's ornate.
 
Of course, this not a look to be treated lightly – or thrown on without thought. On the plus side, it's a look that will flow seamlessly from day to night so, to dazzle during the day pair your jeweled piece with minimal separates. Crisp, clean lines will give the ornamentation all the attention it deserves while keeping the overall look unfussy. For night, allow your outfit to make its own impact by keeping jewellery to the bare minimum.
 
The cosmetics world too is enjoying its share of this season's  sparkle. At fall fashion weeks everywhere, lids and lips were dusted with glitz and glam paraded down the catwalks of Rodarte, Chanel and Betsey Johnson amongst others. Jewel flecked lashes, dazzling brows, shimmering lids and glittering pouts all look set to star just in time for the holiday season – but a word of warning: choose just one feature to highlight to avoid looking scarily sci fi!
 
But although embellishment may appear to be everywhere in the coming months, jewel encrusted pencil skirts, cigarette pants – or eyelashes! - aren't for everyone.  If you'd like to give a nod to the embellishment trend whilst sticking to more classic wardrobe staples, we suggest hunting down bejewelled accessories that will tick the box perfectly without overdoing the look. A glittering, elegant shoe or bag paired with a sleek, simple cocktail dress, or pretty sparkling sandal with winter's longer skirts will make just as much, if not more of a style statement.
 
Nicoli, is a fashion boutique renowned worldwide for our embellished footwear, handbags and purses - and their gorgeous new fall collection features more styles than ever. Exquisitely handcrafted with Swarovski crystals, great thought has gone into the design process of every single piece from their simplest Capri sandals to elegant stilettos, to evening bags. Whilst keeping up with the latest from the catwalks, the Nicoli collection is designed to transcend seasonal trends and stand out as design classics to be loved and enjoyed whatever the time of year.
 
Nicoli also ships worldwide to allow customers all over the globe to enjoy their unique collection. The user-friendly website features elegant designs for every occasion. Why not browse the latest collections at http://www.nicolishoes.com- and make this season your time to shine with Nicoli.