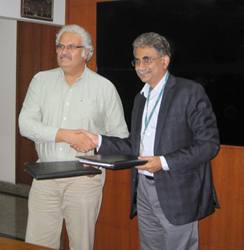 New Delhi/ Chennai, India (PRWEB UK) 16 September 2014
September 16, 2014 – Billion dollar FMCG major and India's largest Ayurvedic medicine manufacturer, Dabur India Limited today announced that it has chosen Ramco HCM (Human Capital Management) solution to integrate its HR operations into one single scalable platform from Ramco.
6400+ employees of Dabur Group spread across 16 countries including India, UK, US, France, Myanmar, Nepal, Bangladesh, Sri Lanka, Tunisia, Turkey, Dubai and others will be covered through this implementation. As per the agreement, Ramco will offer manpower planning and budgeting, recruitment, employee data management, performance management, career and succession planning, training, employee self service and payroll modules to Dabur.
"With multiple business units and operations spread across the globe, managing a global workforce with disparate systems was getting difficult. This was also leading to HR time and effort getting consumed in managing operational needs. We evaluated extending our existing ERP as well as a few other niche HR software vendors. Ramco scored ahead of all others in flexibility and ease of use. Also Ramco's ability to address multi-country payroll and offer in-built analytics and Mobility were key drivers. We are happy to have chosen Ramco HCM to automate HR thereby enabling us to focus on more strategic initiatives" said, Mr. Anil Garg, Head - IT, Dabur.
Mr. Sunil Duggal, CEO, Dabur, said, "Empowering employees and building an energized workforce is the key to successful enterprise, today. With technology simplifying every aspect of life, we wanted to embrace a scalable and future-ready solution to unify our HR operations across the globe. Ramco exhibited the best of both worlds - Functionally as well as Usability-wise. With a rich heritage behind and global aspirations ahead, we are investing in technology to support our future growth. I look forward to a quick go-live to relish the power of getting real-time visibility into employee data and analytics across the globe on an iPad."
Commenting on the win, Mr. Virender Aggarwal, CEO, Ramco Systems, said, "We are excited to add Dabur one of the largest and oldest business house from India as our customer. With Dabur on board, we now have three of the largest Industrial houses in Northern India using Ramco's HCM. We are happy to see the success strides witnessed by our HCM offering since its launch last year. The number of multinationals and Fortune companies embracing our solution has seen an increase. This is a great endorsement of our technical capability and global acceptance."
About Dabur:
Dabur India Ltd is one of India's leading FMCG Companies. Building on a legacy of quality and experience for nearly 130 years, Dabur is today India's most trusted name and the world's largest Ayurvedic and Natural Health Care Company. Dabur India's FMCG portfolio includes five flagship brands with distinct brand identities -- Dabur as the master brand for natural healthcare products, Vatika for premium hair care, Hajmola for digestives, Réal for fruit-based beverages and Fem for fairness bleaches & skin care.
About Ramco Systems:
Ramco Systems provides next generation, end-to-end enterprise solutions that render complete transformation of the business in real time. Built on Ramco VirtualWorks®, all Ramco products are cloud architected by design and address the entire business cycle from transaction to analytics. Part of the USD 1 Billion Ramco Group, the company offers ERP, HCM, MRO, M&E, SCM, CRM, Financials, Service Management, Asset Management, Process Control, Project Management and Analytics to multiple verticals on the most appropriate cloud model—public, private and community. Ramco focuses on providing innovative business solutions that can be delivered quickly and cost-effectively in complex environments. Globally, Ramco has over 150,000 users from 1000+ customer organizations. The company has 20 offices spread across India, USA, Canada, Europe, Australia, Middle East, South Africa and APAC.
For more information, please visit http://www.ramco.com
Follow Ramco on Twitter @ramcosystems/read latest updates on http://www.ramco.com/blog
For further information, contact:
Vinitha Ramani
+91 9840368048
vinitharamani@ramco.com