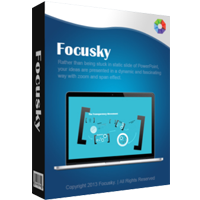 (PRWEB) September 17, 2014
When it comes to giving a presentation in front a group of delegates or inductees, many business executives start feeling butterflies in their stomach. Focusky Software Co Ltd, a science and technology innovation firm committed to offer turnkey business solutions to businesses and individuals, recently came up with Focusky business presentation maker, a creative slideshow maker that enables business owners and executives to present their innovative ideas, business proposals and value propositions of products/services in a creative fashion. The presentation maker promises to make every presentation a highly engrossing one, thereby increasing the prospects of viewer engagement.
Focusky business presentation maker is meant for those business executives who want to catch all the attention in board meetings without going into the technical nitty-gritty of presentation making. It's a free Prezi alternative that can create Prezi like presentation. The software is highly implemental in rich media collaboration, establishing hyperlinks with content available on the web, sequential arrangement of business presentation slides, among many other benefits. The developers at Focusly Software Ltd also added that the business executive using this intelligent software can also enhance aesthetic quotient of their slideshows by adding or modifying elements and the software can give them unmatched flexibility. They have also claimed that Focusky HTML online presentation is by far the best presentation making application at this moment, much better than the MS-PowerPoint.
The 'Zoom and Span' function of the newly launched software application has earned high accolades. Using this feature, business execs can present their plans and proposals in an animated fashion. This can take user experience and engagement to an altogether different height, the software developers have claimed. "Besides, it's easy to integrate YouTube videos in your presentation. Unlike MS-PowerPoint, each and every part of the digital canvas is editable. You can either present your ideas offline or publish the presentation on the web for gaining a wider reach. We have also noticed that the Zoom feature has made the application particularly popular among our patrons. It's a simple tool that can create immense business possibilities", one of the developers was brimming with high hopes while explaining the key benefits that the newly launched business effective presentation software offers.
About the Company
Focusky Software Co Ltd was set up with an aim to facilitate entrepreneurs and executives in presenting their unique ideas in a creative way. Focusky business presentation maker is launched to give wings to business ideas.
To know more about the software application, just visit http://focusky.com/business-presentation.html
To get more information on Focusky innovation, just visit v http://focusky.com/zooming-presentation-features.html.