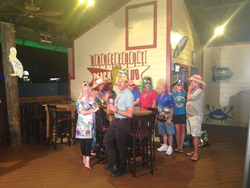 The Elongated Vertical Back Bar Stool is a popular choice for restaurants and bars
Panama City Beach, FL (PRWEB) September 16, 2014
Leading commercial furniture distributor, Restaurant Furniture.net recently teamed up with Barefoot Hideaway Grill in Panama City Beach, Florida update its eating by supplying it with new commercial bar stools.
Barefoot Hideaway Grill is owned by By The Sea Resorts. Adjacent to the restaurant is the Beachbreak By The Sea Hotel. The hotel and restaurant, known as the Barefoot Beach Club are located in Panama City Beach, Florida which is a popular destination for tourists and college students on spring break.
The Florida beach bar is right on the beach and the menu offers burgers, seafood and beverages while customers can dine on the beach. Daily specials include mahi-mahi, fish tacos, BBQ pulled pork, island chicken, tuna and mango & pineapple grouper.
This Florida beach bar has an upper deck eating area with a large bar area. On the lower level there are tables and umbrellas in the sand. Just come right up from the beach in your swim suit and flip flops. You are welcome here. You can even play some beach volleyball.
Barefoot Beach Club features live entertainment on Friday and Saturdays from 4:00 p.m. to 8:00 p.m. Sundays there is live music from 3:00 p.m. to 7:00 p.m.
The owner of Barefoot Hideaway Grill needed high quality commercial seating that would look great and be able to withstand the high traffic that the bar experiences on a daily basis. "The owner needed sturdy, durable chairs that look great, but he didn't want to spend a lot of money", explained David M. He turned to Restaurant Furniture. net because of their reputation for premium quality and strong built furniture at affordable prices. Restaurant Furniture. net supplied Barefoot Hideaway Grill with high quality bar stools and tables at competitive prices that fit well within his budget.
The owner decided to go with Elongated Vertical Back Bar Stool with black frame. Customers can choose either a solid wood seat or a padded seat upholstered in vinyl or fabric. Wood seats are available in 6 different finishes. The padded seat is made in the USA and can be upholstered in any material. The frame is available in black, copper vein, silver vein, gold vein or gold. The bar stools are currently on sale for $51. A matching Elongated Vertical Back Restaurant Metal Chair sells for $33.
"The Elongated Vertical Back Bar Stool is a popular choice for restaurants and bars" according to David M. They are tough and ideal for high traffic venues such as the Barefoot Beach Club, yet are also distinctive and elegant looking.
Browse Restaurant Furniture.net's full selection of commercial grade chairs, bar stools, table tops, table bases, booths and patio furniture at http://www.restaurantfurniture.net or talk to a customer service representative at (888) 409-1115.
Barefoot Hideaway Grill is located at 15405 Beach Front Rd. in Panama City Beach, FL. They can be contacted at: (850) 249-2031.