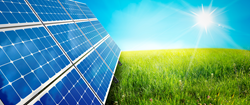 Utility Scale Solar Farms like this 48MW project provide large amounts of green energy for less.
Asheville, NC (PRWEB) September 16, 2014
IS 41, a 48MW solar farm project located in Bladen County, NC, was one of the selected projects that qualified for the Duke Energy Request For Proposal (RFP) that was announced earlier in the year. Signing the fifteen year PPA with Duke Energy on this project is "very exciting" stated representatives for ISS this week. IS 41 will be built on approximately 300 acres of level farm land located in the middle of the state and will employ almost 200,000 highly efficient solar photovoltaic panels producing enough energy to power almost 10,000 area homes. Advanced Energy has been approved as the inverter manufacturer for this project due to the level of sophistication and reliability offered in the company's utility scale inverters.
The actual owner/operator for this solar farm has still not yet been determined and many potential investors are flying in and out of the area daily to view the site and meet with the partners at ISS to determine if this project will be an addition to their existing renewable energy assets. A project of this size is a $100,000,000 investment and is the perfect size to add to the renewable energy portfolios of many companies. ISS is in negotiations with several entities for the purchase of this project along with several other shovel ready projects currently available by the company. ISS company spokesman, John Green, stated that adding so much capacity to the grid in 2015 is very exciting for his company as they work on a possible merger in 2015 when the company plans to go public and begin expansion into a number of other states.
Large investors embrace these utility scale projects due to the economy of scale. Both hard and soft costs are greatly reduced when implementing projects in the 20MW to 80MW size. Project costs go down dramatically on these utility scale projects with savings on panels, racking, inverters, wiring, fittings, transformers and even labor, not to mention legal and engineering. Buyers of these large projects are able to see greater returns than smaller projects. Fewer suitable sites are usually available for these massive scale solar farm projects. When all approvals have been received including a purchase power agreement, buyers are usually excited at the possibility of adding a project of the magnitude of IS 41 to their existing company portfolios. Please contact Innovative Solar Systems, LLC today at (828)-215-9064 to learn more about this 48MW solar farm project or other available shovel ready projects.