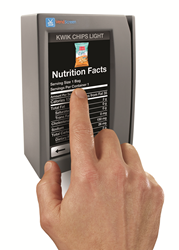 "Many corporations are not aware that their vending operators can quickly and easily add these devices to their machines."
PORTLAND, Ore. (PRWEB) September 16, 2014
Corporate wellness programs across the country are urging employees to make healthier food choices, which include snacks and beverages purchased during the workday. Until now, this has been a challenge because calorie and nutrition information are not provided on the vending machines that employees depend on for these products. A new 4.5-inch touchscreen device called VendScreen is now available that can be quickly added to vending machines to provide this data, as well as enable cashless payments and debit and credit card transactions.
VendScreen payment touchscreens dynamically display ingredients and nutritional profiles, which are continuously updated in a cloud-based database of thousands of calorie and ingredient details. VendScreen's nutrition data far exceeds pending federal requirements that will require operators to disclose each product's calorie count.
"Many corporations are not aware that their vending operators can quickly and easily add these devices to their machines," said David Grano, president and CEO of VendScreen. "As part of an employee wellness program, providing product information prior to a purchase from the vending machine helps raise awareness of the health value of the food or beverage."
According to the 2013 Workplace Wellness Programs Study by RAND Health sponsored by the U.S. Department of Labor and the U.S. Department of Health and Human Services, employers overwhelmingly expressed confidence that workplace wellness programs reduce medical cost, absenteeism and health-related productivity losses. The study's statistical analyses suggested that employee participation in a wellness program over five years is associated with a trend toward lower healthcare costs and decreasing healthcare use.
For more information about the nutrition label browsing capabilities of VendScreen devices, visit http://vendscreen.com/nutrition-wellness/.
About VendScreen Inc.
VendScreen Inc. is the industry's leading manufacturer of retrofit touchscreen devices for vending machines. VendScreen devices are powered by a proprietary cloud-based computing platform that enables cashless transactions, dynamic product and nutrition information, on-screen promotions and centralized remote monitoring. For more information, please visit http://www.vendscreen.com.
# # #
Media Contact:
Chris Henneghan, Brand Strategist
Schubert b2b
chenneghan(at)schubertb2b(dot)com
610-269-2100 x230