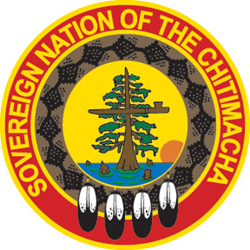 The powwow committee is excited to invite everyone to our first public powwow.
(PRWEB) September 16, 2014
The Sovereign Nation of the Chitimacha and Chitimacha Powwow Planning Committee will host the inaugural Chitimacha Powwow 2014 presented by Keta Group, LLC on October 18, 2014 in the Pavilion at Cypress Bayou Casino Hotel. The Chitimacha Powwow is open to the public and features a climate-controlled arena with bleacher seating, competition dancing, food, and craft vendors.
The Chitimacha Powwow will open to the public 11 AM on Saturday, October 18, 2014 and continue until 10 PM. Dancer registration times are 10 AM and 5 PM. Gourd Dances will be held at 12 PM and 6 PM. Grand Entry times are 1 PM and 7 PM.
"The powwow committee is excited to invite everyone to our first public powwow. Unlike the Tribal Fairs held years ago, this event will be a day solely dedicated to celebrating Native American culture. This powwow has been many years in the making and with the addition of our hotel we can now host this wonderful event. Our powwow will be held indoors at Cypress Bayou Casino Hotel's Pavilion which is a great space for events. With the support of Tribal members, our sponsors, and the community we hope to make this year's gathering a huge success and for this to become an annual event which would add to the many other great events already held in the Acadiana area." said Cultural Director, Kimberly S.Walden. "The event provides a unique opportunity for the public to experience Native American music and dance as well as to enjoy the colorful regalia, Native foods, and crafts."
The Powwow is a celebration of Native cultures through song, dance and fellowship.
Tickets are available at the door for $5 (children 5 years and under are free). For more information, call Chitimacha Cultural Department (337) 923-9923.
About Keta Group, LLC
Keta Group, LLC (Keta Group) is a tribally owned, Louisiana limited liability company that was founded in 2003 by the Chitimacha Tribe of Louisiana, a federally recognized North American Indian Tribe. The product and service offerings of the Keta Group family of companies are focused on information technology services, disaster recovery services, space and defense engineering services, construction, and facility management services associated with facility and base operations support.
About Chitimacha Tribe of Louisiana
The Chitimacha Tribe of Louisiana is a federally recognized Tribe. Our current home is the Chitimacha Reservation near Charenton, Louisiana, although we once occupied about one-third of what is now Louisiana, as some of the original inhabitants of the Atchafalaya Basin, Mississippi River Delta and the Gulf Coast. We are a sovereign nation governed by our Tribal Council. Our government operates similar to other governments, providing services to enrolled tribal members and infrastructure for our community.