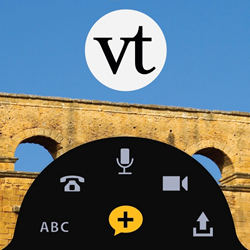 The new look is AMAZING! I am already in love.It's cleaner, easier to navigate. You made my day!!!!- Lisa KnocheTechnology Integration Specialist
Durham, NC (PRWEB) September 18, 2014
"Live human interaction is a critical part of the online learning experience; however, it's quite clear that people don't want to schedule it anymore. Anytime-anywhere convenience, a standard requirement for online learning, conflicts directly with a desire for high quality live interaction in a learning space. It's a conundrum that VoiceThread has solved, enabling people to communicate and collaborate as if they were present in a live classroom or meeting, only they're not. The New VoiceThread solves this puzzle better than ever." - Steve Muth, President and Co-founder
The new update is up to 6X faster, supports HD quality media handling and HD annotations, and offers a completely redesigned experience that adds advanced power-user features while improving upon its already industry-leading simplicity. The New VoiceThread is a free upgrade for all current users and all institutional users will have full control of the upgrade schedule.
"It's been rebuilt from the ground up, but it's still VoiceThread; our commitment to making multisensory communication simple and accessible for everyone hasn't changed. This release is built on almost 9 years of experience working in this field with some of the most forward-thinking institutions and faculty in education today. They know that text-only learning environments are fast becoming an unacceptable quality standard, and VoiceThread allows them to set the new standard. - Ben Papell, CEO and Co-founder
VoiceThreading, already a more effective way to communicate online, just got even better.