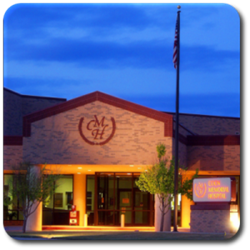 "The Holon HIE solution serves as the backbone of our HIE strategy," said DHCHS' Chief Executive Officer Leroy Schaffner.
Alpharetta, GA (PRWEB) September 17, 2014
Holon Solutions announced today that Dallam-Hartley Counties Hospital District (DHCHD) has implemented its CollaborNet™ Health Information Exchange (HIE) solution to enable the exchange of patients' health information between Coon Memorial Hospital, a 21-bed critical access facility in Dalhart, Texas, and physicians in the community.
Coon Memorial is also using Holon's e-tobacco HIE application to enable electronic referrals by physicians to the state's Quitline tobacco cessation program. The Texas Tobacco Education, Cessation and Community Coalition program tapped Holon to help streamline the patient referral process – without the need for costly interfaces between Quitline's system and the hundreds of electronic health record (EHR) systems used by providers throughout the state.
Coon Memorial currently maintains connectivity between all healthcare facilities in the Dallam-Hartley Counties Healthcare System (DHCHS). Hospital executives determined that they wanted to go beyond existing point-to-point interfaces and connect physicians using Holon's CollaborNet HIE solution. DHCHS envisions using the HIE technology to power a collaborative healthcare team that will ultimately extend to health systems in Amarillo, Texas.
Holon is partnering with the Texas Organization of Rural & Community Hospitals (TORCH) with the goal of connecting 155 communities of care across the state of Texas, including Dallam-Hartley Counties Hospital District and many others.
"The Holon HIE solution serves as the backbone of our HIE strategy," said DHCHS' Chief Executive Officer Leroy Schaffner. "We're creating a collaborative environment for visiting physicians that will be a real game changer in our community, allowing us to provide better patient care and a better patient experience. We're also excited about the opportunity to pilot the one-click e-tobacco app."
In the initial phase, Coon Memorial's EHR system, CPSI, is being connected via CollaborNet. This will allow physicians to receive patient information on demand. Coon will also be able to use the electronic referral process enabled by CollaborNet to help more local residents get help quitting smoking.
"We are excited about working with Coon Memorial Hospital," said Holon CEO Mike McGuire. "We believe that patients in the Dallam-Hartley Counties area will benefit directly from increased care team collaboration and the access they will have to smoking cessation programs as a result of this HIE initiative by improving the quality of care and outcomes."
ABOUT DALLAM-HARTLEY COUNTIES HOSPITAL DISTRICT
Dallam-Hartley Counties Hospital District is a growth-oriented healthcare organization that is committed to being the primary quality healthcare resource for Dallam-Hartley counties and surrounding areas. DHCHD encompasses the 21-bed Coon Memorial Hospital (http://www.dhchd.org), a 24-hour, Level 4 trauma emergency room, laboratory, radiology, general surgery, nursing, respiratory therapy, physical and occupational therapy, occupation health clinic, and home health and hospice services.
ABOUT TORCH
TORCH (http://www.torchnet.org) is an organization comprised of rural and community hospitals, corporations, and interested individuals working together to address the special needs and issues of rural and community hospitals, staff, patients, and communities they serve. TORCH's mission is to be the voice and principal advocate for rural and community hospitals in Texas, and to provide leadership in addressing the special needs and issues of these hospitals.
ABOUT HOLON SOLUTIONS
Holon's health information exchange (HIE) solutions help hospitals, health systems and rural providers facilitate a collaborative care environment by providing access to information at the point of care – without forcing anyone on the care team to change current systems or processes. For more information, visit http://www.holonsolutions.com, call 678-324-2060, or connect with Holon on Facebook, LinkedIn, Twitter or YouTube.
Media Contact:
Sheryl Roehl
Director of Marketing
Holon Solutions/SNAPS, Inc.
678.324.2008
sroehl(at)holonsolutions(dot)com