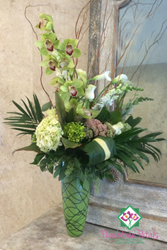 Los Angeles, CA (PRWEB) September 17, 2014
Peachtree Petals, a recognized leading floral provider, specializing in premium floral arrangements and floral services, announces floral daily deal specials. The Los Angeles florist makes the announcement in effort to market its' variety of custom floral arrangement options, expand its' customer base in the region and increase sales growth. Peachtree Petals pursues to be the best choice in high-quality and custom-designed floral arrangements in the West Los Angeles and surrounding Los Angeles metro city areas.
The Peachtree Petals Floral Daily Deal Specials are conveniently located on the florist's comprehensive website. The daily deal floral bouquets are designed by one of Peachtree Petals' experienced, master florist and made up of the most seasonal, freshest flowers available. There are five price choices for the Peachtree Petals Daily Deal, ranging from $65 up to $200. The floral arrangement is created according to the value selected. The deal is competitively priced and saves floral shopping time for customers.
Currently, each of the prices have been discounted on the Daily Deal Specials. Customers can receive a bouquet valued at $65 for only $50. For a Daily Deal arrangement for $200, customers can purchase for only $160. The specials are designed to offer customers a satisfactory floral arrangement option left up to the florist's expertise. Most customers place orders for their recipients, which may have general idea of what they like. With the Floral Daily Deal Specials, customers can provide any special instructions and make sure the recipient receives just the right flowers they desire.
From peonies and roses, to hydrangeas and birds of paradise, Peachtree Petals has it all. Customers can purchase the Daily Deal Special via phone or online and get their West Los Angeles flower delivery the same day. For any special requests, clients can contact Peachtree Petals' customer care or speak directly to a florist to discuss their floral needs.
Peachtree Petals is a well-known leader of superior floral arrangements and a recognized Master Florist nationwide. Peachtree Petals is able to meet all of your floral needs. Peachtree Petals services a growing list of clients, including company floral subscriptions and weekly floral services. The company offers a simple approach to the floral industry, most notably, same-day delivery of all their floral arrangements in the West Los Angeles and surrounding Los Angeles metro city areas.