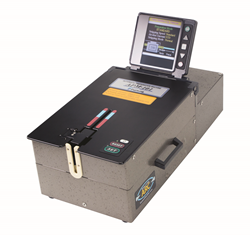 The efficient operating system allows technicians to continuously process fiber without substantial interruption.
Spartanburg, SC (PRWEB) September 18, 2014
AFL's APM-101/102 Automatic Preparation Machines are automatic operating and cleaning systems which allow technicians to quickly and efficiently strip, clean and cleave fibers in as little as 18 to 21 seconds. Pair the APM-101 with a FSM-100-series fusion splicer or the APM-102 with the Fujikura 70S fusion splicer. The APM-series ensures consistent high reliability splicing with minimal operator effort.
"The new APM series is a game changer for high volume fiber assembly operations," commented Brad Hendrix, global specialty market manager of AFL. "The automated process of stripping, cleaning and cleaving the fiber takes away many of the potential failure points associated with a more manual process."
Both the APM-101 and APM-102 automatically perform all the steps necessary to prepare optical fibers before splicing including: stripping the fiber without noticeably degrading fiber quality, cleaning fiber with alcohol to remove coating residue and cleaving consistently at a right angle to the fiber axis. The efficient operating system allows technicians to continuously process fiber without substantial interruption.
Additionally, the APM-101and 102 provides an automatic cleaning process to keep vital system components clean and without the need for refills to the alcohol-based system. Residue collectors gather debris and glass scraps into separate containers for easy scheduled disposal.
Conveniently designed with the same operating height as Fujikura fusion splicers, technicians will find the APM-101and 102 to be ergonomic, smooth and efficient while working through the operating process. For additional information about AFL, its products and services, visit http://www.AFLglobal.com.
About AFL
AFL provides industry-leading products and services to the electric utility, broadband, communications, enterprise and OEM markets as well as the emerging markets of oil and gas, mining, nuclear, avionics, renewables and transportation. The company's diverse product portfolio includes fiber optic cable, transmission and substation accessories, outside plant equipment, connectors, fusion splicers, test equipment and training. AFL's service portfolio includes market-leading positions with the foremost communications companies supporting inside plant central office, EF&I, outside plant, enterprise and wireless areas.
Founded in 1984, AFL is proud to offer engineering expertise, exceptional products and reliable service that help our customers improve their critical and electrical infrastructure. AFL has operations in the U.S., Mexico, Canada, Europe, Asia and the South Pacific. The company is headquartered in Spartanburg, SC and is a wholly-owned subsidiary of Fujikura Ltd. of Japan.