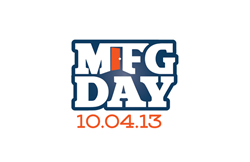 Rockford, Illinois (PRWEB) September 17, 2014
Manufacturing Day, the annual celebration of manufacturing in North America, has announced the Grand Prize winner of its first annual Manufacturing Day Video Contest. Waukesha Metal Products, with plants in Grafton and Sussex, Wis., was selected as the overall winner by a panel of judges from the Manufacturing Day co-producer organizations because of the way its video illustrates the values at the heart of Manufacturing Day: pride in manufacturing; the important role manufacturers play in their communities; and a commitment to inspire the next generation of manufacturers in America.
Waukesha Metal Products also received the Upper Midwest regional prize in the video contest, which featured five regional winners overall. Festo Inc., from Hauppage, N.Y., won for the Northeast region; Polygon Solutions of Ft. Myers, Fla., took top honors in the Southeast; SparkFun Electronics of Boulder, Colo., came out ahead in the Lower Midwest; and Gyford StandOff Systems, located in Reno, Nev., swept the West.
All five winners have their videos featured on the official Manufacturing Day website, Facebook page, and YouTube channel, and are awarded a complimentary public showing license for American Made Movie, the official Movie Partner of Manufacturing Day. In addition to the promotion and license, winners also receive complimentary Manufacturing Day–branded signage and other resources to support their 2014 Manufacturing Day events.
To watch the winning videos, visit http://www.mfgday.com/manufacturing-day-video-contest-winners. Details about the video contest can be found at http://www.mfgday.com/video-contest. The official hashtag for the Manufacturing Day Video Contest is #MfgVideo.
Manufacturing Day is an annual national event, executed at the local level, that supports hundreds of manufacturers across the nation as they host students, teachers, parents, job seekers and other local community members at open houses designed to showcase modern manufacturing technology and careers. A panel of co-producers comprised of the Fabricators & Manufacturers Association, International (FMA), the National Association of Manufacturers (NAM), the Manufacturing Institute (MI), the National Institute of Standards and Technology's (NIST) Hollings Manufacturing Extension Partnership (MEP), and guest producer Industrial Strength Marketing (ISM) provide the centralized support necessary to coordinate this nationwide array of simultaneous events. The national media partner for the event is Science Channel and the national movie partner is American Made Movie.
To learn more about Manufacturing Day and how to participate in Manufacturing Day 2014 events — which run throughout September, October and November 2014 across the United States, Canada and Puerto Rico — visit http://www.mfgday.com. The official hashtag for Manufacturing Day 2014 is #MfgDay14.
For more information about the organizations behind Manufacturing Day, please contact:
Fabricators & Manufacturers Association, Intl.
Patricia Lee
Director of Marketing
(815) 227-8286
patl(at)fmanet(dot)org
National Institute of Standards & Technology
Jennifer Huergo
Director of Media Relations
(301) 975-6343
jennifer.huergo(at)nist(dot)gov
National Association of Manufacturers and
The Manufacturing Institute
Matt Lavoie
Senior Director of Media Relations, Communications
(202) 637-3085
mlavoie(at)nam(dot)org
Industrial Strength Marketing
Joey Strawn
Integrated Marketing Director
(866) 529-8908
joey(at)marketstrong(dot)com
Science Channel
Joanne Schioppi
Director of Communications
(212) 548-5084
joanne_schioppi(at)discovery(dot)com
American Made Movie
Trey Ditto
Ditto Public Affairs
(512) 619-1343
trey(at)dittopublicaffairs(dot)com
###