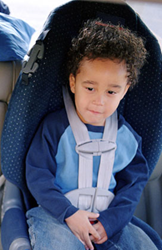 LINCOLN, R.I. (PRWEB) September 16, 2014
As part of Child Passenger Safety Week, which runs from Sunday, Sept. 14, through Saturday, Sept. 20, Amica Insurance is reminding parents and caregivers to make sure children are safe and secure while in the car.
According to a 2012 survey from the National Traffic Highway Safety Administration (NHTSA), 20 percent of drivers of child passengers admitted they did not read the instruction manual when installing child restraints. However, 90 percent of those same drivers were confident the equipment was installed correctly.
The NHTSA suggests the following tips to promote child safety:

Make sure car seats are appropriate for the child's age, weight and height by checking the label.
Place children in rear-facing car seats for as long as possible. When they outgrow the seat, switch to a forward-facing car seat. Attach the top tether after tightening and locking the seat belt or lowering the anchors.
Once a car seat is installed, shake it at the base. A car seat that has been correctly installed will not move more than an inch from side to side or front to back.
Check the manual to be sure the harness is buckled tightly and coming from the correct slots. With the chest clip placed at armpit level, pinch the strap at the child's shoulder. You should not be able to pinch any extra webbing.
Children should sit in the backseat until they are 13. Doing this, as well as using the proper child restraints, will lower the risk of injury.
About Amica Insurance
Amica Mutual Insurance Co., the nation's oldest mutual insurer of automobiles, was founded in 1907. The company, based in Lincoln, Rhode Island, is a national writer of auto, home, marine and umbrella insurance. Life coverage is available through Amica Life Insurance Company, a wholly owned subsidiary. Amica employs more than 3,300 people in 43 offices across the country. For more information, visit Amica.com.
CONTACT: Vince Burks, Corporate Communications, 50 Amica Way, Lincoln, RI 02865-1155, 800-652-6422, ext. 24563
Twitter: Amica
Facebook: Amica Mutual Insurance Co.