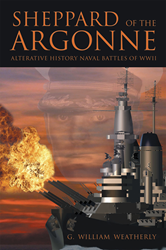 I hope to leave the reader with an understanding of why the tools of war can shape events just as much as the men that control them.
New London, CT (PRWEB) September 16, 2014
The Washington Naval Treaty of 1922 was an attempt to discourage an arms race after the horror of World War I. Cutting more than half the world's navies, the signing countries limited the size of fleets, ships and guns.
In his new book "Sheppard of the Argonne," retired U.S. Navy Captain George Jackson describes what World War II's naval battles might have looked like if the treaty had never taken place. Huge ships – and a lot of them – maneuver for control of the world's oceans.
"War in the twentieth century was dictated by technology," said Jackson. "Presenting that idea, I hope to leave the reader with an understanding of why the tools of war can shape events just as much as the men that control them."
Adding a very troubling historical reality to the book's protagonist, Jackson pays homage to the veterans of the greatest generation by addressing the silence that met the debilitating condition now known as PTSD.
The novel begins during America's entry into World War II. Captain Sheppard McCloud is given command of the U.S. Navy's most advanced capital ship while still recovering from wounds received in the recent attack at Pearl Harbor. Captain McCloud struggles to balance his psychological stress—almost at its breaking point—with the massive responsibilities to the war effort, his crew and their families.
"Commanding a warship on a vital mission is complex enough," said Jackson. "The realities of having to deal with 'shell shock,' which was considered cowardice in that day, presented an incredible challenge and burden to those brave men."
While commissioned in the Navy, Jackson commanded three nuclear submarines and was appointed Chairman of Joint Military Operations Department of the Naval War College from 1994 until 1999. He is an expert in naval warfare and has used his expertise to create a world with an alternative history to thrill navy buffs and laymen readers alike.
For more information, visit http://www.sheppardoftheargonne.com
"Sheppard of the Argonne"
By G. William Weatherly
ISBN: 978-1-4917-3191-8
Available in softcover, hardcover, e-book
Available on Amazon, Barnes & Noble and iUniverse
About the author
"Sheppard of the Argonne" is the first book in a series by G. William Weatherly, a pen name for George Jackson. A retired captain with thirty years of service and command of three ships, he holds degrees from the University of Wisconsin in nuclear engineering and naval science.
For review copies or interview requests, contact:
Matt VanScoik
317.602.7137 | mvanscoik(at)bohlsengroup(dot)com