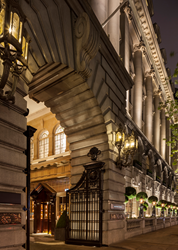 Louey and Rubino championed creating a decidedly "un-hotel" look and feel — specifically that of a a traditional British manor house to match the concept and decor.
Santa Monica, CA (PRWEB) September 18, 2014
Robert Louey and Regina Rubino blend classic and contemporary tastes to create a strategic brand identity — and an award-winning environmental signage design program—for a true heritage hotel, Rosewood London. Re-imagining the landmark Edwardian Belle Epoque building more as a stylish London residence, the team, masterfully lead by renowned Interior Designer Tony Chi, developed a thoughtful strategy aligned with the Rosewood Hotel & Resorts® philosophy of creating properties that offer a distinct individuality grounded in A Sense of Place®.
Winning acclaim from the press on both sides of the Atlantic, Rosewood London was recently named "Hotel of the Year" at the Best of the Best Hotel Awards at 26th Annual Virtuoso Travel Week in Las Vegas, the top prize awarded by the Virtuoso luxury travel network. Rosewood London has also captured the attention of the professional design community. Graphis, a prestigious international journal of visual communications, has honored Louey and Rubino with a Silver Award for Environmental Graphics and will feature the work in the 2015 Graphis Design Annual. Further, Louey and Rubino's interior signage program has been singled out for inclusion in the PRINT Regional Design Annual.
Built in 1914 at 252 High Holborn, an eminent site with its own postal code, Rosewood London is a Class II listed building subject to strict requirements for preservation of its Italianate façade, as well as rare marble on interior walls, historic light fittings and latches, metal frame windows and a grand staircase leading to the central dome. Louey and Rubino were under the guidance of the Historic Buildings and Monuments Commission for England in terms of the signage applications.
Robert Louey adds, "Research into the decorative arts of the Edwardian period led us to a beautiful William Morris pattern that became a unifying design motif. We commissioned a sculptor to cast the floral motif in three dimensions to become a series of bronze friezes at the entrances to the hotel. The design as well as literary quotes appear again on etched glass doors, walls and shelving. In every respect, the design of Rosewood London respects history, yet has a worldly sophistication with enormous appeal for today's travelers."
Louey and Rubino championed creating a decidedly "un-hotel" look and feel—specifically, that of a traditional British manor house to match the concept and decor. As there are typically no signs on the interior walls of a home to guide guests to their rooms or a dining room or library, bespoke hand made leather-bound books were designed and produced that are placed open on a table or custom made wooden lectern to offer information about the hotel. As befits an elegant residence, the books are finely crafted artifacts and branded communication for a sophisticated audience.
"Our goal was to give shape to the Rosewood vision and create an authentic, meaningful Rosewood London brand identity fully supported by all of the appropriate design elements" concludes Regina Rubino. "It's wonderful to step into a world so fully realized in every detail, a stimulus to the imagination and the senses."
Prior to an inspired brand identity for Rosewood London, Louey and Rubino worked with the Rosewood Hotels & Resorts team to develop a new direction for the company—enhancing and evolving the concept and narrative of A Sense of Place®. "The strategy for Rosewood London grew organically from the work we were doing with Rosewood as brand consultants," says Robert Louey. "We began by thinking about the character of this extraordinary neo-classical building, its particular history and its historic relationship with London—and of course, Rosewood's mission to provide travelers with a rich and utterly unique experience. From there, the work blossomed into a collaboration that took us from brand strategy to design—interiors, environmental signage, a web site and so forth."
Robert Louey Design/Pagenova, Regina Rubino/IMAGE: Global Vision and Louey/Rubino Design Group have built an international reputation by blending emotionally stunning imagery with simple yet powerful language. Through the years, Rubino and Louey have won more than 300 international communication arts awards while offering Fortune 500 companies and other major entities assistance in creating identity systems that solve complex communications challenges.
Their client list includes Rosewood Hotels & Resorts, Hyatt Hotels & Resorts, The Beverly Hills Hotel, Kaufman and Broad, Beijing Yintai Property Company, Ltd., Mori Building Co. Ltd. and Aflac.
About Robert Louey Design/Pagenova / Regina Rubino/ IMAGE: Global Vision, Information Contact: Phone (310) 396-7724 Fax (310) 396-1686 E-mail: reginarubino(at)imageglobalvision(dot)com http://www.robertloueydesign.com, http://www.imageglobalvision.com