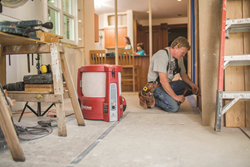 The BuildClean system gives us a competitive advantage.
Schaumburg, IL (PRWEB) September 18, 2014
The new BuildClean™ Dust Control System is proving itself a boon to contractors and homeowners alike as it eliminates the top remodeling complaint: construction dust that overtakes the home, causes potential health issues, and makes it "unlivable" during the project. Now available nationwide, the BuildClean system allows contractors to virtually eliminate airborne dust that results from demolition, sanding and other standard remodeling tasks.
BuildClean removes up to 90 percent of the airborne dust generated in the remodeling process, which minimizes the migration of dust and preserves home livability even in the most challenging remodeling projects. The system is a first-to-market construction dust control system for the residential remodeling industry. It was developed after years of on-site market research and testing and is built around the unique needs of the remodeling contractor and homeowner.
"The BuildClean System allows contractors to address the No. 1 issue that both the client and contractor share during home remodeling projects – construction dust," said Brian Paich, Business Development Manager for ITW BuildClean. "For many firms, managing homeowner expectations is the remodeler's primary method of managing dust. That's a problem because approximately 90 percent of homeowners stay in the home during a renovation.
"Failure to control the dust can cause health issues, damage belongings, harm repeat business or referrals, and damage a company's reputation. Construction dust is an emotional issue for the homeowner. With BuildClean, contractors can reassure their client that they are doing all that they can to minimize the dust."
About 82 percent of remodeling contractors surveyed by BuildClean said, "Leaving less dust behind would likely improve overall satisfaction of customers." Of the homeowners surveyed, 85 percent confirmed this belief and 68 percent noted that they dread remodeling dust.
Remodeling and demolition dust can trigger asthma attacks, allergic reactions and problems for people with chronic obstructive pulmonary disease (COPD). Jobsite dust can also have an adverse effect on the health of pets that are in the home during construction. In addition, particles from sawing, scraping and sanding can contain hazardous materials such as arsenic or lead.
The BuildClean unit keeps airborne dust in the job work area – and out of the rest of the home – and then eliminates it. The system, which can exchange the air in a 6,000-cubic-foot room six times in one hour, draws air in through two particle-trapping filters, and returns clean air into the space. BuildClean's 360-degree design and two-stage filtration system helps maximize coarse and fine particle collection on the jobsite.
"We use BuildClean because it ensures customer satisfaction," said Eric Thorson, founder and owner of Thorson Restoration and Construction, LLC, a new construction and remodeling company serving the Boston area. "Our clients really appreciate that we're bringing in something that will make their house more livable during remodeling."
In addition, this "little supervision needed" system acts as a contractor's best friend. Just plug it in, turn it on and go. Dynamic fan speed control increases the motor speed as filters load ensuring that performance is consistent and the desired CFM air flow is maintained. Auto Mode monitors the air and lets the unit work without supervision; the machine runs at high when dust is detected in the air. Filter cleanliness status is provided via stoplight-style LED lights that tell you when to clean or replace filters.
"The BuildClean system gives us a competitive advantage," said David Roberts, an architect and contractor for Roberts Architect Builders in Evanston, IL, a design-build company. "We mention the system to homeowners at the beginning of a project and they're really impressed once they see it in action. It shows them we care about their health. One of our company trademarks is that we 'keep it clean,' and BuildClean has allowed us to do that."
BuildClean is an ideal sales and marketing tool for businesses because it can help a contractor exceed the expectations of the homeowner which, in turn, will help generate repeat business and referrals, Paich said. "The system provides great value to the remodeling contractor and to the homeowner. It is hard to put a price on competitive advantage, livability, and satisfaction but our current customers are saying that the system pays for itself in as little as five jobs."
For more information on BuildClean, visit http://www.buildclean.com.
About BuildClean™:
BuildClean™ specializes in dust control solutions for residential remodeling contractors. The BuildClean™ Dust Control System provides continuous and highly effective air filtration and captures many types of dust generated during remodeling projects, including cement, insulation, silica, lead, wood and drywall dust. BuildClean, which is a unit of Illinois Tool Works, Inc., is based in Schaumburg, IL. For more product and service information, visit http://buildclean.com/.