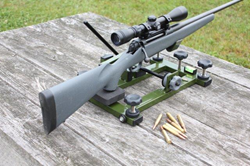 "gun rests are necessary evils...you have to use them if you want the best accuracy...there's no other way"
huntington station, ny (PRWEB) September 17, 2014
The HYSKORE® (http://www.hyskore.com) #30276 Track & Elevate Varmint Rest will be introduced to the shooting industry at the 2015 SHOT Show and is available for immediate delivery. Shooting a single varmint with a .223 or .204 Ruger is easy. It can be accomplished from a gun support as simple as a backpack or sand bag. Shooting multiple varmints, especially if they are moving, requires a gun support platform that can traverse and elevate instantly. The Track & Elevate Varmint Rest can easily accomplish this and has been designed to support all conventional long guns including those with high capacity magazines and pistol grips, such as AR-15 and AK-47 style platforms. According to HYSKORE® spokesman, Ted Werner, "If you hunt varmints, especially prairie dogs, the HYSKORE® Track & Elevate Varmint Rest will greatly assist bagging the most trophies."
Hunting varmints has always been a challenging proposition; with the right shooting rest it can also be rewarding. If a single prairie dog, woodchuck or coyote presents itself, a tree limb, fence post, or almost any other type of support will hold the gun steady enough to get the job done. If multiple targets are present and / or they are in motion, a static gun support will not get the desired result. Do not confuse this with the Caldwell Lead Sled type of shooting rest. This is a sophisticated and specialized gun support platform that can instantly elevate and track. The HYSKORE® (http://www.hyskore.com)Track & Elevate is completely portable, weighs less than 8 lbs. and utilizes a hand operated lever and cam system that smoothly and effectively elevates the front end of the gun through over 300 M.O.A. At the rear of the rest there are two (2) ball bearing rollers that allow the rest to pivot 360º left or right around a central axis providing liquid smooth traversing. This is a precision tool that combines, on demand, vertical and horizontal dispersion correction.
The rest can be used successfully both in the field and at the shooting range. The T&E is designed to work on a bench top to yield precise, accurate and repeatable groups on paper targets at 100, 200, 300 yards and more distant ranges. The rest is compatible with iron sights for close in shots and precision rifle scopes for extreme ranges. The Track & Elevate is also the perfect shooting accessory for testing shotgun patterns for trap & skeet shooting and turkey hunting. In order to hold a temporary elevation in the field the rest incorporates a clutch which consists of two interlocking Delrin radial gear faces that can be disengaged or engaged to lock the elevating cam at a specific elevation. When shooting off a bench or at a shooting range where the distance to the target is both known and fixed there is a secondary permanent elevation setting device. The rest has been designed to accommodate all long guns with conventional stocks, such as the Winchester model 70 or Remington model 700 and all popular predator calibers from .22-250 and .25-06 up to .270 Winchester and .30-06 Springfield. Since prairie dog hunting frequently involves the rapid engagement of multiple targets a semi-automatic rifle, such as an AR-15 in 5.56 / .223 is the weapon of choice, and the Track & Elevate is the ideal companion accessory. All gun contact surfaces such as the V-notch and the rear gun rest are padded with closed cell non-reactive foam to protect the gun's finish. Leveling is accomplished at four (4) points using leveling jacks with locking collars. A magnetic spirit level is included to insure perfect orientation. The frame has a durable O.D. Green powder coat finish, while the cam and clutch assembly are black electroplate.
It should also be noted that HYSKORE® manufactures the #30280 Ten Ring® Portable Shooting Bench and the Track & Elevate can easily be integrated by engaging the central pivot so that the two units become one integral, portable, varmint hunter's shooting platform with a total weight of under 28 lbs. The Track & Elevate is available at:
Cabela's – http://www.cabelas.com
The Sportsman's Guide – http://www.sportsmansguide.com
The NRA Store – http://www.nrastore.com
Midway USA – http://www.midwayusa.com
About HYSKORE®
HYSKORE® is a registered trademark of Power Aisle, Inc. (Est. 1988) of Huntington Station, New York 11746, 631/673-5975. HYSKORE® manufactures a proprietary line of advanced, purpose built, tactical and sport shooting accessories including shooting rests, multi-function electronic hearing protection, pistol rests, pistol racks and sundry accessories.
A full range of compression dampened, recoil attenuating shooting and tactical / varmint rests is available from HYSKORE®, http://www.hyskore.com. The lineup consists of the DLX Precision Sighting Rest, the Dangerous Game® Machine Rest, the Ten Ring® Shooting & Varmint Rest, the Dead Eye® Tactical & Varmint Rest, the Black Gun® Shooting Rest, and the Black Gun® Machine Rest. These are fully supported on the HYSKORE® website with instruction manuals, target downloads, and both demo and tutorial videos. Most importantly, these advanced shooting rests are affordable to the average shooter.