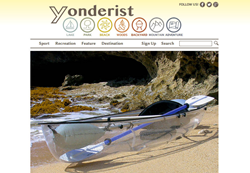 Readers may ogle over a boat that doubles as a hot tub or find something as useful as a niche app that guides them through the US national parks.
New York, NY (PRWEB) September 17, 2014
Yonderist.com is a new website that showcases a handpicked collection of unique outdoor products and experiences. With appealing images and witty, descriptive content, men and women readers will discover an impressive selection of items designed to enhance their time spent outdoors. Readers may ogle over a boat that doubles as a hot tub or find something as useful as a niche app that guides them through the US national parks. New content is published daily, is easily shareable through social media and items can be purchased through their affiliates.
The Yonderist team scouts out interesting products from across the web, magazines, and other sources. They provide their readers with compelling outdoor accessories and strive to never serve up the ordinary. This selective curating saves its readers time from having to spend hours finding such products on their own. For example, products featured on Yonderist make it more convenient to carry gear, make it easier to monitor performance, or add an element of unexpected fun to a sport or adventure. Other items displayed donate a portion of their proceeds to charity or support local artisans. Some of the experiences will include an array of unique wildlife encounters, insane obstacle courses and outdoor music festivals.
Yonderist not only provides well-selected content but also incorporates a high entertainment value that keeps its readers engaged. Images invite the reader to addictively peruse the website looking for the next great thing. The reader is further enticed with clever product descriptions that are delivered in a conversational tone, peppered with humor and cultural references. For instance, the website displays a backyard bird feeder that takes 'bird selfies,' an outdoor blanket that drawstrings up your goods to go before the park ranger catches you with an illicit chardonnay or a croquet set that gets you playing backyard games with your 'friends' just like the snooty Heathers.
Yonderist puts itself in the shoes of its readers by organizing its content for the outdoor location the item is used such as a lake, park, beach, woods, backyard, mountain, and adventure. This allows the reader to easily find the items that match his/her particular outdoor interests and uncover additional items that may inspire new outdoor pursuits. There is further categorization highlighting a full spectrum of outdoor activities that range from extreme sports to beach lounging or barbecuing to paddlesports. With a broad array of outdoor categories Yonderist expands the term outdoorsy to include everyone who simply enjoys being outside.
With its recent launch, Yonderist seeks to be an invaluable and entertaining resource for people looking to pursue an outdoor lifestyle and to discover new outdoor adventures, products and gear.
Check out the Yonderist website at Yonderist.com or follow them on Facebook; Twitter (@OutdoorScouts), Pinterest or Google+.