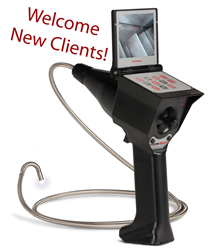 (PRWEB) September 17, 2014
RF System Lab, a world-wide leader in remote visual inspection and manufacturer of the VJ-Advance (VJ-ADV) video borescope, would like to welcome a variety of new clients from the month of August. The newest purchasers of the VJ-ADV include companies from multiple industries, including Food Processing, Casting, Integrated Technology, and Power Generation.
Joining RF System Lab's newest customers in the Food Processing industry is one of the world's largest food companies, General Mills. The well-known brand required a high-quality borescope to complete internal inspections of pipes that guide ammonia around their factory and ensure there was no leakage. To make sure that inspections with the VJ-ADV could be performed efficiently, General Mills installed inspection points in the pipes for easy entrance. With a brand recognizable in almost every household, General Mills needed to make sure to invest in a borescope that could help them complete inspections with confidence.
Another new VJ-Advance video borescope user is Skilled Manufacturing, a Traverse City, Michigan based company that specialized in engineering design and manufacturing quality. Skilled Manufacturing had been utilizing a competitor's video borescope, but found the repairs to be costly and frequent. Thanks to RF System Lab's low-cost repair service, which includes a free loaner VJ-ADV to use while your borescope is being fixed, Skilled Manufacturing was able to save time and money completing casting inspections. When you are a manufacturer of oil pans for top automotive companies, you cannot afford any downtime.
RF System Lab also acquired an Integrated Technology customer this past August. Plexus Corp is known for providing electronic engineering and manufacturing services around the globe. They recently purchased a 3.9mm VJ-ADV to internally inspect electro-machinery and circuit boards. The slim 3.9mm VJ-ADV is the perfect fit for small-space inspections, especially with joy-stick controlled four-way articulation functionality. When inspecting hard-to-reach places, a borescope with hi-res image quality and the flexibility to effortlessly navigate around corners is a must, which is why Plexus Corp selected the VJ-ADV for their inspections.
In addition, RF System Lab is proud to have Florida Light & Power, an investor-owned utility company providing electric power throughout Florida, as a new customer in the Power Generation industry. Florida Power & Light required a video borescope as soon as possible when an outage occurred. RF System Lab has VJ-ADV borescopes in stock to provide next day, if needed. Therefore, when a power generation company, like Florida Light & Power, must complete immediate corrective maintenance, RF System Lab is able to fulfill that need and quickly ship out the proper borescope for the job.
RF System Lab would like to extend a thank you to these new clients, as well as all additional clients not listed here. If you would like to demo the VJ-Advance video borescope, you can sign up for a no-cost, no-obligation demo program. For more information on RF System Lab, please visit our website or call 855-787-6966 to speak with one of our borescope experts about your specific internal inspection needs.