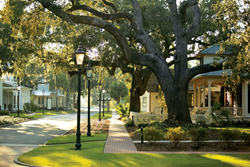 Fall Fitness Events Coming to the Lowcountry
Hilton Head, South Carolina (PRWEB) September 17, 2014
Avid runners are encouraged to join in on the Palmetto Bluff events happening this fall in coastal South Carolina. The Buffalo Run at Palmetto Bluff is scheduled for October 12, 2014 and will allow runners a chance to explore some of the unchartered areas of this fabulous seaside gated community and see the site of the 2014 Southern Living Idea House. The event will start at 8am and offers one of three race formats, a 10k, 30k and a 50k and is geared for participation of all fitness levels. The scenic course will travel through some of the most pristine areas of Palmetto Bluff which are conveniently located between Savannah and Hilton Head.
While the course starts on hard pavement, runners will shift to a sandy soil and gravel course that will take them alongside hardwood pines and give them the opportunity to blend with nature as often deer, wild turkeys and fox squirrels share this preserved habitat. Incredible views of the maritime forest and the New River marsh are added bonuses in this second race in the series for the Palmetto Running Company. Not only will runners reap the benefits of this well planned event, but also $25 of each registration will go directly to the Palmetto Bluff Conservatory.
Running is one of the best choices for staying in shape for individuals of all ages. Running is an activity that requires no equipment other than a good pair of running shoes. Running works the entire body and burns an incredible amount of calories (a 160 lb. person can burn up to 850 calories in an hour!) Additionally, it can ward off disease and has been found that running can help prevent heart disease by as much as 50%. Running works a person's core, strengthens the heart, improves stamina, reduces stress and gives folks an overall sense of well-being by raising endorphins or "feel good" hormones. Running also helps build bone strength and helps individuals to sleep better at night. Running is also a very effective way to stay socially active and even four-legged friends can enjoy the exercise. Always remember to stretch both before and after a workout to prevent muscle soreness. For those who are a novice, start slowly and find a friend for some company. It's a great way to age gracefully and enjoy retirement in one of the healthiest communities in South Carolina.
Don't forget to check out the new River Road neighborhood while at Palmetto Bluff. With abundant wildlife, undisturbed marshlands and waterways, living with nature is the ultimate experience when choosing a home in this South Carolina coastal community. Living at Palmetto Bluff offers all the luxuries of Lowcountry living and features many amenities:
PALMETTO BLUFF AMENITIES
24 Hour Manned Gated Entrance
18 Hole Championship Golf Course designed by Jack Nicklaus
5,000 Square Foot May River Golf Clubhouse with dining
The Inn & Spa at Palmetto Bluff with heated Swimming Pool
River House Fitness Center and Heated Lap Pool at the Spa
River House Restaurant
Longfield Stables - Full Service Equestrian Center
24 Stall Barn, Covered Arena, Practice Course
Wilson Landing - 80 Dry Storage Boat Slips, Boat Rentals and Outfitters Center
Wilson Lawn & Racquet Club with 8 Har-Tru Tennis Courts & Two Bocce Ball Courts
Wilson Village - RT's Market, Chapel, Shops and Restaurants
Canoe Club & Fitness Center with Jacuzzi and Kiddie Pool
Canoe Club Restaurant
15 Miles of Riding and Walking Trails
6,000 Acre Nature Preserve
While at Palmetto Bluff, tour the Southern Living Idea House. Celebrating its 25th year of bringing innovative architectural designs to the South, Southern Living decided to make its 2014 project at the new River Road neighborhood in Palmetto Bluff. Through the efforts of Southern Living, Palmetto Bluff, Pursley Dixon Architecture, Suzanne Kasler Interiors and Shoreline Construction, the Southern Living Idea House was born. Capturing some of the most incredible architectural and decorating ideas, individuals can visualize their dream home in this historic seaside development. The Idea House is open for tours 5 days a week and tickets are $15 each, children under 12 are admitted for free. The proceeds benefit Bluffton Self Help and the Boys & Girls Club of Bluffton.
For those looking for a cozy, health-oriented South Carolina coastal community, a visit to Palmetto Bluff is a must! Contact Tom Jackson of Gateway Realty direct at 843.757.7710 to find the most recent Palmetto Bluff homes for sale.
About Real Estate Scorecard:
Real Estate Scorecard writes unbiased real estate reviews providing in-depth information about popular gated communities in Florida, Georgia, North Carolina, South Carolina, and Tennessee, all in an effort to help people discover where to retire in the Southeast.
Website: http://realestatescorecard.com