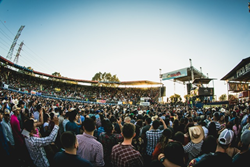 LOS ANGELES, CA (PRWEB) September 16, 2014
Following 35 years at Whittier Narrows Regional Park in South El Monte, the Fiestas Patrias 2014 festival moved just six minutes away to Pico Rivera Sports Arena, where its unrivalled tradition continues at one of the largest and most storied Latin entertainment venues in the country.
Produced by Del Rey Entertainment in conjunction with Liberman Broadcasting, the Fiestas Patrias festival is a highly-anticipated annual institution for Hispanic families all over Southern California
"We are thrilled to once again be teaming with Liberman Broadcasting to produce the largest Fiestas Patrias festival in the Nation," said Chris del Rey, president of Del Rey Marketing and Del Rey Entertainment. "To continue the tradition of providing the Hispanic community a first-rate family event - and now at such an incredible venue as Pico Rivera Sports Arena."
This year's Fiestas Patrias festival boasted world-class, chart-topping performers on three stages (one inside Pico Rivera Sports Arena itself and two in the adjacent Recreation Areas). These included:
EL KOMANDER, REMMY VALENZUELA, LOS RIELEROS DEL NORTE, REGULO CARO/JULIAN MERCADO, LOS RODRIGUEZ DE SINALOA, PROYECTO X, LOS TRAVIESOS DE LA SIERRA, ARIEL CAMACHO, BANDA RANCHO VIENO, GERARDO CORONEL, CHEYO CARRILLO, IRVING CASANOVA,ORIGINAL BANDA EL LIMON, ALEJANDRO LIRA, and BANDA CARNAVAL.
The festival's official El Grito ceremony, marking the "Grito de Dolores" battle cry of the Mexican War of Independence, was led by Mexican Consul General in Los Angeles, Carlos M. Sada.
Free tickets to the event were available at Vallarta Supermarkets locations throughout
Southern California. The all-day celebration also featured high-traffic exhibitor booths, engaging interactive games, and flavorful food from Mexico, Central and South America. Aggressive radio, TV and Vallarta Supermarkets in-store promotion ensured that the Fiestas Patrias festival was once again a record-breaking commemoration of Mexico's proclamation of independence in 1810.
Alongside its sister Cinco de Mayo festival, which is also organized by Del Rey Entertainment, the Fiestas Patrias festival creates a crucial sense of tradition, positivity, pride and unity among the Southern California Hispanic community, as well as having an invaluable economic impact on nearby businesses.
For further information on Fiestas Patrias and Cinco de Mayo festival participation opportunities, please contact:
Del Rey Marketing - Estela Iglesias | 323-201-0888 | eiglesias(at)delreymarketing(dot)com
About Del Rey Marketing
Del Rey Marketing is a leading multicultural shopper marketing and promotions company specializing in reaching the growing Latino consumer demographic across the United States. In conjunction with Del Rey Entertainment, the rapidly-growing company also directs and produces live events featuring Latin music artists to promote major packaged goods companies, retailers and Fortune 500 corporations. Founded in 1996, Los Angeles-based Del Rey Marketing is 100-percent Hispanic owned and operated.
# # #