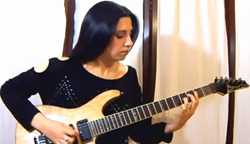 (PRWEB) September 17, 2014
A "riff" is the catchy part of a song that sticks in your head. One of the most recognizable guitar riffs of all time is "Smoke on the water" by Deep Purple.
In this lead guitar lesson, now available on YouTube.com, Alejandra Mesliuk teaches how to play I Still Got the Blues by Gary Moore. This lead guitar riff is based out of the minor pentatonic scale and follows the chord changes in the song and is in the key of Am (A minor). The riff incorporates the techniques of slides, bends, hammer-on and pull-off's and shifts through several positions which causes it to be very melodic. Alejandra demonstrates the chord progression as being a very common one called the circle of fifths. Guitar TAB's are available for this lead guitar lesson at GuitarControl.com.
The Pentatonic Scale is a musical scale with five notes per octave. They can be found all over the world and are the main scale used in the Blues genre.
Robert William Gary Moore, aka, Gary Moore was a singer guitarist from Belfast, Ireland. Moore was most known for being a member of Thin Lizzy and has shared the stage with the likes of B.B. King and George Harrison. Over the course of his career he released 20 studio albums before his death in 2011.
Alejandra Mesliuk
Alejandra Mesliuk is from Buenos Aires, Argentina. She studied jazz guitar harmony and under the method in Temperley Berklee School of Music by Ariel Ferreyrola. She has been an area teacher and clinician for the last 10 years in electric guitar, classical, and musical language. She is currently working on a solo album.
About GuitarControl.com
GuitarControl.com is the leader in modern guitar instruction. It's packed with recourses including articles, video lessons, and the best videos in the business for the beginner to the advanced guitar student taught by the best instructors out there. Whether you are into the blues, rock, jazz, metal, folk, or anything in between, they have you covered.