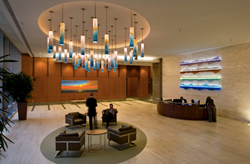 Wimberley Glassworks has been a vital creative partner in helping our commercial real estate company and architects 'brand' our buildings with one-of-a-kind, blown glass lighting ensembles in the lobbies.
San Marcos, Texas (PRWEB) September 17, 2014
Wimberley Glassworks, one of the nation's premier blown glass lighting studios – today announced plans to showcase its striking installations for commercial properties at the Texas Society of Architects (TSA) 75th Annual Convention and Design Expo, November 6-8, in Houston.
Architects and other specifiers attending the convention's popular Design Expo will want to visit Wimberley Glassworks's booth (#516) to see vibrant video and photography of the award-winning studio's nature-inspired, commercial installations around the country. These include "A Sunrise at Matagorda Bay" and "The River of Glass" installations, which complete the spacious lobbies of two prominent, Houston-area office buildings – the Petrobas America building and Granite Properties Briarpark Green, respectively.
Wimberley Glassworks also will spotlight its collaborations with architectural firms on healthcare facilities – such as Texas Children's Hospital's Pavilion for Women – which increasingly are being designed to create warm and welcoming spaces and environments for patients and their families.
Additionally, the studio plans to display "TextureICE," a dazzling 37" x 38" translucent, textured glass chandelier that is representative of Wimberley Glassworks' 2014-2015 commercial collection and the type of fixtures that architects and other specifiers can order.
"While tenants decide to lease office space based on an multitude of factors, including cost, location, quality of the actual office space, furnishings and art in public areas, the landlord's reputation and more, the look and feel of a lobby is a big part of the decision because it's the first impression of our future clients' business home," said David R. Cunningham, Director of Development, Granite Properties, which operates in Atlanta, Dallas, Denver, Houston and Los Angeles. Since 1991, Granite has developed or acquired more than 23 million square feet of commercial properties, with an emphasis on Class A office space.
"Wimberley Glassworks has been a vital creative partner in helping Granite and our architects to 'brand' our buildings with one-of-a-kind, blown glass lighting ensembles in the lobbies – they are always the centerpiece of discussion when we open buildings to the public," said Cunningham. "The studio's original and spectacular creations are, by far, a superior option to off-the-shelf fixtures you see in other buildings or elaborate works by celebrity artists which, quite frankly, are over priced and repetitive."
Tim de Jong, owner and creative director of Wimberley Glassworks, will be available at the studio's booth during the TSA design expo to discuss the highly collaborative approach that he and his team of artists, designers and engineers take when working with clients and architects. This approach ensures that every piece is designed and fabricated to meet exact specifications, enhance and beautify the space it will occupy, and also be easy to maintain.
"We look forward to showing architects at this year's expo how a custom-designed Wimberley Glassworks piece can further differentiate their commercial projects," said de Jong. "Our creations, always tasteful and never gaudy, become a focal point in the spaces where they're installed and have a calming effect – they slow people down and promote wonder and reflection. They're a source of pride for tenants."
The TSA is the Lone Star state component of the American Institute of Architects. It is one of the nation's largest organizations for the architectural profession, with 17 regional chapters and more than 6,000 members.
The design expo at the annual TSA convention gives architects an opportunity to conveniently see and learn first-hand about the latest products and services for their profession and also cultivate valuable, productive working relationships with vendors and service providers. The expo is the preeminent architectural products show in the Southwest and the largest of its kind in the region.
About Wimberley Glassworks
Nestled in the Texas Hill Country in San Marcos, Wimberley Glassworks is the premier designer and fabricator of the finest hand-blown art glass lighting and art glass available today. A new, 6,500-square-foot, state-of-the-art studio accommodates creation of a variety of architectural design options, including installations and pieces for large commercial spaces, private residences and collections throughout the country. The studio's custom art glass installations complement any space with an interplay of color, light and form. For more information, visit http://www.wgw.com
# # #