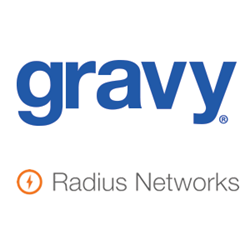 Leesburg, VA (PRWEB) September 18, 2014
Gravy and Radius Networks are partnering to bring micro-location proximity awareness to consumer insight solutions using proximity beacons with iBeacon and AltBeacon technology. The partners will incorporate Radius Networks' micro-location proximity hardware and services capabilities into Gravy's patented consumer offline behavior technology, enabling richer consumer insights inside AND outside retailer and other venue locations. This new service will improve their clients' ability to personalize promotions, events and offers to their mobile consumers.
Radius Networks' Gravy adds a 4th dimension to the traditional consumer insights of demographics, time, and geolocation. The Gravy solution uncovers 'why' consumers visit places. Gravy leverages its robust database of local event content and venue information to help companies better understand the likes, interests, and actual physical experiences consumers have in and around their businesses.
RadBeacon proximity beacons with iBeacon and AltBeacon technologies are short range, Bluetooth SmartTM transmitters that can notify mobile devices when they come within 100 feet of the beacon. This micro-location proximity awareness can be leveraged to deliver a wide range of innovative solutions, such as precision indoor navigation, automatic ticketing, guided museum tours and location-relevant offers and promotions.
Combining Gravy's outside and competitor location monitoring with Radius Networks' in-store proximity awareness yields rich consumer data. These insights powers Individual Consumer Profiles and Customer Segmentation that enable more relevant, immediate and welcomed engagement.
Gravy CEO Jeff White remarked, "We are excited to partner with Radius Networks to offer the most comprehensive view of the consumer available. We look forward to leveraging the detailed location awareness of iBeacon and AltBeacon technology with our rich event information to help clients understand even more about what customers are doing in their everyday lives."
Marc Wallace, CEO of Radius Networks added, "By combining Gravy's robust event information with our micro-location proximity technologies, we can help clients understand not only where customers go in their stores, but where they went before entering, where they go afterwards and why."
# # #
About Gravy
Gravy is the first solution to uncover the "why" behind consumers' local activities and behaviors. Gravy leverages its massive collection of proprietary event content information, along with location details, to provide context to where consumers go and what they experience. For more information visit corp.findgravy.com or by calling 703-728-2928.
About Radius Networks
Radius Networks creates new and innovative ways to use wireless device signals for proximity and presence detection. Radius Networks' cloud-based proximity services and products are used by mobile developers, major retailers, restaurant chains, sports complexes and other companies to drive innovative customer engagement and experience. For more information, visit http://radiusnetworks.com or follow Radius Networks at @radiusnetworks.
iBeacon is a trademark of Apple, Inc.
AltBeacon is a trademark of Radius Networks, Inc.