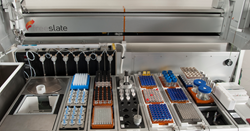 The Freeslate system will have an immediate and dramatic impact on our ability to understand and optimize chemical reactions that lead to relevant drug compounds.
Sunnyvale, CA (PRWEB) September 17, 2014
Freeslate, Inc., the leading provider of high throughput research solutions for drug development, today announced that Baylor University acquired a Freeslate Core Module 3 (CM3) Reaction Screening System to both support Baylor research interests and provide screening services to the Texas community. Freeslate's high throughput system is expected to significantly accelerate innovation in the area of reaction screening and optimization for small molecule organic chemistry.
The CM3 Reaction Screening System will be supporting an all-new high throughput chemical reaction screening lab at Baylor. The new lab is partly funded by the Cancer Prevention Research Institute of Texas (CPRIT). Part of CPRIT's goal is to expedite innovation and commercialization in the area of cancer research with a mandate to "attract, create, or expand research capabilities of public or private institutions of higher education and other public or private entities that will promote a substantial increase in cancer research."
"The Freeslate system will have an immediate and dramatic impact on our ability to understand and optimize chemical reactions that lead to relevant drug compounds," said Dr. Ke Kong, Director of the High Throughput Chemical Reaction Screening Lab at Baylor. "We are excited about the potential to accelerate innovation in this critical area."
"We are excited that Baylor selected Freeslate in this important step to accelerate their research programs," said John S. Senaldi, President and CEO of Freeslate. "Freeslate has initiated many important collaborations with leading academic and government laboratories and is proud to enable scientists to drive innovation in the non-profit market sector."
Freeslate products are designed to accelerate innovation by screening a broader experimental space with hundreds of catalysts, limiting simplifying assumptions, and delivering non-intuitive results. Freeslate offers unique, high throughput systems for screening chemical reactions including automated powder dispensing systems, automated reaction screening systems, high throughput high pressure reactors, and a powerful data management suite for getting the most out of the data generated.
About Freeslate
Freeslate is a privately held company providing laboratory automation products that dramatically improve the productivity and innovation of drug development organizations. For more than a decade, Freeslate has been working with customers to automate complex chemical research processes. Our resulting product line includes solutions for protein and vaccine drug formulation development, small molecule solubility, and polymorph screening and process chemistry. We start with a scientific understanding of our customer's bottlenecks and utilize our robust and proprietary automation platforms and integrated Lab Execution and Analysis (LEA) software suite to deliver solutions that make a difference. The company is headquartered in Sunnyvale, California, with direct sales and service in North America, Europe, and Asia. For more information, visit http://www.freeslate.com.