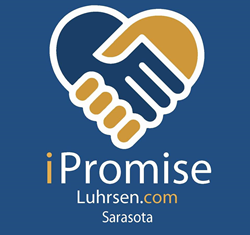 Sarasota, Florida (PRWEB) September 17, 2014
Over the past several years, Luhrsen Law Group has worked to spread the word within our community about safety risks on Florida's roads. As technology has advanced, distracted driving, especially texting while driving, now ranks as one of the top causes of teen car crashes. According to the National Highway Transportation Safety Administration, of teen crashes involving a fatality, 21% were due to the driver being distracted by the use of cell phones.
For attorneys Jeff and Julie Luhrsen it's about prevention: "Our firm would much rather educate the public, then represent someone hurt in a crash that was 100% preventable!" This past spring, Luhrsen Law Group's iPromise Pledge Campaign not to text and drive yielded over 400 teenaged drivers, along with their parents, pledging not to text and drive. Due to the success of the spring iPromise Campaign, Luhrsen Law Group just launched its Fall 2014 iPromise Campaign. To promote conversations about and positive steps toward ending distracted driving, teen drivers and their parents who take the iPromise pledge become eligible to win one of five $1,000.00 scholarships that the firm is once again making part of their campaign.
Luhrsen Law Group's Fall 2014 iPromise Campaign has three main objectives: (1) serve as a reminder to all who pledged in the spring and as needed, re-ignite their promise not to text and drive; (2) expand the iPromise audience to communities who did not previously have a chance to pledge and enter for a chance to win one of the $1,000 scholarships; and (3) generally promote awareness in an effort to help reduce distracted driving crashes and injuries.
To learn more about Luhrsen Law Group's iPromise pledge and scholarship drawing, go to http://www.Luhrsen.com and click on iPromise. Luhrsen Law Group, based in Sarasota, Florida, is proud to be a family-owned firm that serves Florida families by helping them recover after serious injuries and harm caused by others. Luhrsen Law Group, Serving to Protect. For more Information, contact Firm Administrator, Matt Bower, at 941-957-4878, ext 241, or MJB(at)luhrsen(dot)com.