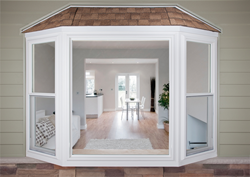 Our growth is a result of the business we generate from our satisfied customers
Lanham, MD (PRWEB) September 17, 2014
Thompson Creek Window Company, the mid-Atlantic's leading home improvement replacement product company, has been named #6 on Remodeling magazine's annual list of Top 550 remodeling and home improvement companies in the United States. Thompson Creek Window Company is the only Maryland-based window manufacturer to appear on this list. Remodeling Magazine leverages residential remodeling revenue data gathered from a web-based survey conducted jointly by Remodeling Magazine and its sister publication, Replacement Contractor. Specpan, a third-party data collection provider, hosted the survey and compiled the data. Additional information was gathered via mailings, phone calls and public information sources.
Rick Wuest, president of Thompson Creek, said, "I am proud to have our company recognized as one of the top remodelers in the country for another year. Sustainability in our business requires the highest-quality product, perfect installation, and top-notch customer service. Thompson Creek reviews feedback from every customer survey to make sure that we are living up to our mission to create the best customer service experience in our industry. Our growth is a result of the business we generate from our satisfied customers and the great feedback they are giving to their friends and neighbors about our company."
Additional information on the Top 550 can be found at http://www.remodeling.hw.net/benchmarks/remodeling-550/2014-remodeling-550-replacement-contractors_o
About Thompson Creek Window Company
Founded in 1980, Thompson Creek Window Company began as a manufacturer of energy-efficient, maintenance-free vinyl windows. Since that time, Thompson Creek Window Company has evolved into one of the leading specialty home improvement contracting companies in the nation. The company's product mix includes replacement windows and doors and a clog-free gutter system. Thompson Creek Window Company is headquartered in Lanham, Maryland, with an 80,000 square-foot manufacturing facility in Landover, Maryland. Thompson Creek employs over 400 people in the Washington D.C. region.