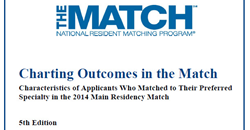 "We are delighted to provide Charting Outcomes in the Match. It is an extremely valuable resource, one we can ensure will be available for years to come." Mona M. Signer, Executive Director
Washington, D.C. (PRWEB) September 18, 2014
The National Resident Matching Program has published Charting Outcomes in the Match, a comprehensive analysis of the relationship between unique applicant characteristics and success in matching to a preferred specialty. The new edition is based on the 2014 Main Residency Match and reports data by specialty for U.S. allopathic medical school senior students and all other applicants.
"We are delighted to be able to provide this new edition of Charting Outcomes in the Match," said NRMP Executive Director Mona M. Signer. "Our constituents--Match applicants and medical school staff –tell us it is an extremely valuable resource. Although we were not able to produce it last year, enhancements to the Match registration process allow us to ensure the report's availability for years to come."
In Charting Outcomes in the Match, the Match result for each applicant is analyzed based on specific characteristics, including United States Medical licensing Exam® (USMLE®) scores and the number of publications, academic degrees, research, volunteer, and work experiences, to document how applicant qualifications affect Match success. Success is defined as a match to the applicant's first-ranked program, or preferred specialty. Lack of success can mean the applicant matched to another specialty or did not match at all.
By aggregating the data for all applicants, the report creates a profile of applicants who are successful in matching to their preferred specialty. Successful applicants are more likely to:

rank more programs in their preferred specialty
be U.S. allopathic medical school seniors
have higher USMLE Step 1 and Step 2 scores
be members of Alpha Omega Alpha (AOA), the national medical honor society for students with high academic achievement
Although there is a strong relationship between higher USMLE Step scores and Match success, the report also shows that program directors consider other qualifications in evaluating applicants. "We advise applicants to rank programs in order of true preference, to consider a mix of highly competitive and less competitive programs, and to list all qualifications on their applications," said Ms. Signer. "A high USMLE score does not guarantee Match success, nor does a low score bar applicants from their preferred specialty."
# # #
The Match
The NRMP utilizes a computerized mathematical algorithm to align the preferences of applicants with the preferences of program directors in order to fill training positions at U.S. teaching hospitals and community-based programs. Research on the algorithm used by the NRMP was a basis for Dr. Alvin Roth's receipt of the 2012 Nobel Prize in Economics.
The NRMP is a private, non-profit organization established in 1952 at the request of medical students to provide an orderly and fair mechanism for matching the preferences of applicants for U.S. residency positions with the preferences of residency program directors. In addition to the Main Residency Match, the NRMP conducts Matches for more than 40 subspecialties that participate in the Specialties Matching Service. For more information, contact NRMP at 1-866-653-NRMP (6767) or visit http://www.nrmp.org. For interviews, please email media(at)nrmp(dot)org.