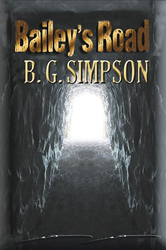 Besides discovering government secrets, an unhinged scientist, a strange group of misfits, they find a beast that gives new meaning to the word terror.
(PRWEB) September 17, 2014
Buried deep inside a bunker in the Colorado mountains, something has been left behind in cold storage for the past three years. "Bailey's Road" leads straight into danger!
Nineteen-year-old Bailey Simms feels right at home in the countryside of Colorado Springs. The seasoned distance runner is ready to make a name for himself, until a summer storm hits the area and changes the earth's surface forever. Bailey meets a young woman named Betty and they fall for each other, even as the world is changing around them. Besides discovering government secrets, they find an unhinged scientist, a strange group of misfits, and a beast that gives new meaning to the word terror.
Fighting for survival, this odd group hides in the bunker within the Rocky Mountains. But what is already there waiting for them? Follow Bailey and his new friends as they unravel a future that may not see a tomorrow. Who doesn't like an intense sci-fi thriller?
Watch the video at: http://www.youtube.com/watch?v=VIiJ2lUlpS0&feature=youtu.be
About the Author
B. G. Simpson grew up in San Diego. "As a young boy, I'd learned a lot about life and a young boy's dreams by becoming a seasoned distance runner. Through those experiences of my youth, and traveling, I've learned that each of us have to travel a road not always smooth or easy going. There are bumps along the way that teach us to bend and flex, with the occasions of stress and change that tend to mold us into the people we become."
Book Details
Genre: Science Fiction
Author: B. G. Simpson
Format: Paperback, 406 pages
Pub date: August 2014
"BAILEY'S ROAD" (ISBN: 978-1-62857-418-0) is now available for $21.95 and can be ordered through the publisher's website:
http://sbpra.com/BGSimpson, Amazon, or the website of Barnes and Noble.
WHOLESALERS: This book is distributed by Ingram Books and other wholesale distributors. Contact your representative with the ISBN for purchase. Wholesale purchase for retailers, universities, libraries, and other organizations is also available through the publisher; please email bookorder(at)sbpra(dot)net.
Strategic Book Publishing and Rights Co, LLC