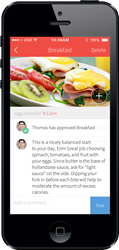 Behavior Change On The Brain: According to a new study by the USDA Human Nutrition Research Center on Aging, two weeks to six months of healthier eating can help "rewire" the brain to crave more nutritious foods. 2
SAN FRANCISCO (PRWEB) September 17, 2014
Incredibly, the average American tries to lose weight four times a year and fails.1 The challenge with big brand diets is that they're one-size-fits-all. Even if a person's weight loss goal is reached, it is often short-lived because it doesn't tap into the secret behind lasting success: behavior change.
Introducing Rise, a brand new mobile service, which has already helped thousands of people escape the diet cycle via 1:1 attention and coaching by Rise's many nutritionists.
Unlike standard diets, Rise does not try to squeeze its members into a pre-established set of foods. Instead, coaches tailor the program based on the members' individual needs and goals – like weight loss, diabetes management and prenatal nutrition. Each member's coach creates a highly personalized program and motivates the member to achieve their personal best.
How it works:
A Real Human – When it comes to motivation and accountability, there is no replacement for working with a real human 1:1. Rise pairs each member with their own personal nutrition expert, a top-notch, vetted, registered nutritionist who will be with them for the duration of their journey.
Designed For The Individual – Based on a member's unique lifestyle, personality and background, Rise matches members with a selection of top-notch experts who are best suited to help them achieve their goals. Each coach's daily mission is to give Rise members personalized advice, tips and motivation to succeed in achieving their goals.
Health Made Simple – The beauty of working with a real person is that they understand that every day won't be perfect, and that's okay. With Rise, members simply snap a photo of each meal and get guidance tailored to what they need that day. No guilt. No calories to track. Rise delivers the support and advice members need, when they need it.
Affordable – Typically, one-on-one nutrition coaching runs over $300 per month. Rise cuts the cost of having a top-quality, certified expert to around $15 per week.
"Most diets focus on how you feel for the next few weeks" said Suneel Gupta, Rise co-founder and former vice president of product development for Groupon. "We care about how you feel for the rest of your life. We're helping our clients build habits that last a lifetime."
Gupta struggled with obesity as a child, and he is using that experience along with his success in building online platforms to create something that is simple, affordable, and effective. By eliminating the high cost and time commitment of in-person guidance, Rise's patent-pending technology connects members with nutrition coaches, in real-time, at an affordable price.
What Rise Members are Saying:
"Sonya helped me lose 16 pounds in 9 weeks and helped me achieve amazing cholesterol and other blood test results from my doctor, all while having me eat more food."
– Josh K., 37, Chicago
"I noticed a very big difference in the way that I ate after I started being accountable to Rise and my amazing nutritionist Melinda. I want all of my friends who are dieting in an unhealthy way to have the same kind of support that I do."
– Julia K., 33, San Francisco
Six months since its initial launch, members' results are proving Gupta's passion-driven concept: the company has already paired thousands of clients with private nutritionists, nearly 80 percent of whom lost weight in their first four weeks on the program. In fact, Rise sold out of memberships on the first day it launched. To create room for thousands of additional members, Rise tripled the number of coaches, making it the largest publicly available network of registered dietitians providing one-on-one guidance.
1 Mann T et al, Medicare's search for effective obesity treatments: diets are not the answer, American Psychology Journal, 2007; Freeman, D, The Perfected Self, Atlantic magazine, 2012
2 http://www.today.com/health/weight-loss-program-rewires-brain-crave-healthy-food-scans-show-1D80115273
###
About Rise
A pocket nutrition expert, Rise is a unique mobile platform that provides top-notch, one-on-one nutritional coaching through 24/7 access to registered dietitians for a fraction of the cost of in-person consultations. Rise is designed to help users achieve real results based on their individual goals and health needs through an easy-to-use, photo-based food tracker, custom nutrition plan, daily monitoring and real time feedback. Inspired by personal experiences managing his weight as a child, Suneel Gupta co-founded Rise with Stuart Parmenter in February 2014 with the mission to help people live healthier lives through mobile connectivity. Rise is available for the iPhone in the App Store for about $15 per week. Visit http://www.rise.us for more information.