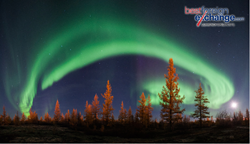 The autumn colours in the forests provide an unbelievable backdrop to see the lights, as the contrast between the amber tones of the trees and green of the Aurora is simply mystical
London, UK (PRWEB UK) 23 September 2014
While many travellers believe winter is the best time to experience the Northern Lights in Iceland, autumn is a better option where the weather is mild and the skies are much clearer. BestForeignExchange.com offers the most competitive exchange rates for Icelandic Króna this season.
During this season, there is no need to take out the snow gear and the chances of clear skies are high during the autumn. 21st of September will mark the start of the Northern Lights season and in coming months auroras can be witnessed the same as the more colder period of the year reported Travel Magazine on 12th August.
The upcoming months are an ideal time to visit Iceland. Apart from the Northern Lights, beautiful autumn colours of the forest and wild life is possible during this period. The Travel Magazine further reported that, "The autumn colours in the forests provide an unbelievable backdrop to see the lights, as the contrast between the amber tones of the trees and green of the Aurora is simply mystical, all made more intense by the depth of the darkness that surrounds it."
"The travellers selecting some remote locations to witness varieties of the marvellous viewing experience will face practical difficulties to find ATMs closer to camping sites. Using your credit or debit card will attract additional bank charges while exchanging Pounds, Euros, and Dollars at hotels and restaurants, which will give an adverse exchange rate. As such, we offer the best exchange rates to purchase Icelandic Króna at any of our branches or can order online and received by next day via Royal Mail special delivery," stated Trevor Samuel, Marketing Manager at BestForeignExchange.com
In addition, BestForeignExchange.com also offers market defining exchange rates for Euro and Scandinavian Kroner.
About BestForeignExchange.com
Owned and operated by Thomas Exchange Global, BestForeignExchange.com offers the most competitive exchange rates in London. Customers that reserve currencies online will be assured the same exchange rate until close of business on the particular day despite any adverse fluctuations. BestForeignExchange.com stocks the widest range of foreign currencies in London with over 120 types of foreign bank notes. All foreign currency buy/sell transactions are free of any commission or charges.
Thomas Exchange Global also offers International Money Transfer Service where funds can be remitted to overseas bank accounts within one to two days. With commission free service for transfers over £10,000 backed by competitive exchange rates, customers are assured of a better deal and a substantial saving compared to banks and money brokers. Thomas Exchange Global branches are located at Strand, Victoria Street, Liverpool Street, Hammersmith, Cannon Street and Wormwood Street.