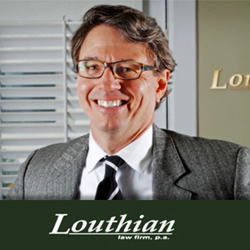 Americans are more connected than ever and we want to ensure that they're connecting with us when they need help after an accident.
Columbia, SC (PRWEB) September 18, 2014
The Louthian Law Firm, a Columbia personal injury practice, has just launched a new website which will make it easier for those who have been hurt in an accident in South Carolina to find helpful information about many types of injuries and the assistance their office can provide to families of accident victims.
With convenience for clients in mind, the enhanced design offers an improved mobile experience for today's digital consumers. "Americans are more connected than ever," said Bert Louthian, "and we want to ensure that they're connecting with us when they need help after an accident."
The Louthian Law website includes thousands of pages of legal-related content. The restructured navigation allows users to more easily locate articles of interest. "For example," Louthian said, "if people are looking for information about uninsured motorists or tips for dealing with insurance companies, we have that. DIY accident prevention suggestions? We have that, too. Our new website makes it easier for people to find the information they need – quick!"
A new Search feature helps consumers find just what they're looking for, responding with a list of informative content as well as recent blog articles that relate to the topic of interest. "This really allows the reader to access a broad range of relevant information without having to sift through lots of entries or lists before they finally land on what they're looking for," Louthian said.
Providing legal counsel to South Carolinians since 1959, the Louthian Law Firm has fought for justice for all demographic groups. "We're especially pleased that our new website offers translations of some legal information for those in our Hispanic communities," said Louthian. "Now they can read Spanish translations of our web content about common causes of injury, like car wrecks and workplace accidents."
Understanding that people searching for a lawyer value the input of past clients and often rely on word-of-mouth referrals, the Louthian Law website now contains more than 25 testimonials from people previously represented by the firm. "A willingness to share their experience and recommend our services is the highest compliment our clients can offer. It helps people get a genuine feel for who we are and helps them feel more comfortable about working with us, before they even pick up the phone," Louthian said.
About the Louthian Law Firm P.A.
Founded by Herb Louthian in 1959, Louthian Law is family-owned and family-focused. In 1985 Herb's son, Bert Louthian, joined the firm, which now offers eight decades of combined legal expertise in all facets of personal injury law. Located at 1116 Blanding Street, Suite 300, in Columbia, South Carolina, the firm serves all of South Carolina. For more information, please visit http://www.louthianlaw.com.