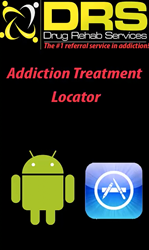 Technology at the service of people with a drug and alcohol addiction
Montreal, Quebec (PRWEB) September 23, 2014
The Drug Rehab Services App is better than ever, completely revamped, re-tuned, and ready to help people in Canada and the United States. This marvelous app is now also available on both Android and iPhone operating systems and provides detailed information for locating help in Canada and the US. The creator of this app, Marcel Gemme, who also owns DRS, first came up with the idea of an app when he noticed his daughters were on their phones more than any other device they owned. "My daughters were on their phones all the time as most teenage girls are today," said Marcel. "As well I discovered over thirty percent of the people contacting me for help were doing so from a mobile device; this gave me the idea to create a mobile app for the treatment locator directory available on our websites."
When opening the app users are prompted to select their country, either Canada or the US. From there the user is prompted to a brief disclaimer and then is able to gain access to the Drug Rehab Services Directory of treatment. In the two top corners, a text can be sent or our toll-free number can be reached via the app and right below is the directory list of every form of drug and alcohol treatment available. A user can choose from meetings, detox services, and even residential and out-patient services.
When a user selects the type of treatment, they are also able to select the distance of treatment, an extremely useful option as people can find help all over a province or state. Once selected the app accesses the location from the mobile device, and a map pops up with all the locations available in the area the user is in. Each location is selected with a pin on the map and all the contact information is available when the user selects that particular pin. "A person looking for help will have instant access at their fingertips 24/7, and can find help in any place where they are," stated Marcel. "This app eliminates the long dragged out process of searching the Internet for hours, everything is at your fingertips."
"An interesting experience came across my way one day about an individual whom had the app on their phone and was able to help a woman get her daughter into treatment," said Marcel. "This person was traveling on a flight from Toronto onto Montreal and engaged in some friendly chit chat with a woman who was on the same flight. She explained she was going to Montreal to get her daughter in to treatment and this individual who had the app was able to provide her instantly with all the treatment centers she was looking for in Montreal. Turns out she got her daughter into treatment; this only shows me this app is meant to help people and will do so for as long as it is around."
Drug Rehab Services provides a lengthy directory of treatment solutions and is available 24/7 to help those in need.