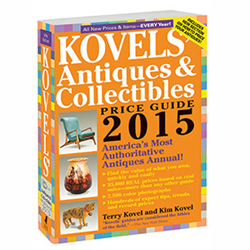 Cleveland, OH (PRWEB) September 17, 2014
The 47th edition of America's best-selling antiques price guide is here. The just-released "Kovels' Antiques & Collectibles Price Guide 2015" is the most complete guide on the market, with more than 35,000 real prices from real sales and 2,500 new color photographs. Every price is reviewed for accuracy. Kovels' features items sought by collectors in over 700 categories and in prices from $2 to $875,000, not just the highest-priced antiques found in most guides.
Kovels' user-friendly price guide includes an index and cross-references for everything from art pottery, Depression glass and jewelry to furniture, coin-operated machines and sports memorabilia, along with up-to-date information about each category, logos, marks and dates. Also featured are hundreds of expert tips, comments on trends and pricing patterns, and the year's record prices. All this enables collectors to buy, sell and collect with confidence.
Best of all, there's an entirely new addition to this year's book. "Price It Right: How to Set Prices to Sell Your Things" explains how to navigate the selling process, including what to sell, how to research local pricing, what will impact resale value, when to enlist expert advice, and how to determine if you're getting a good price from a dealer. Also included are lists of sources, website information and titles of the most useful books.
A peek at some of the fascinating listings:

Carved figure of Santa Claus made by Samuel A. Robb of New York in 1923, highest price in the book, $875,000
Celluloid button with a rhinestone center made for a dress, lowest price in the book, $2
Wooden and marble backbar with four columns, mirrors, and cast-iron trim, largest item in the book, 150 by 117 inches, $18,000
Micro-mosaic glass button picturing a building is the smallest, 3/8 inch, $14
Corpse cooler and preserver with a viewing window made in 1874, $3,259
French Provincial dog's bed with canopy made around 1820, $1,722
Antiques collectors have turned to the Kovels for their outstanding annual price guide ever since the first edition appeared in 1968. Since then, collecting has become more popular and collectors have become more savvy and better informed. With a nationally syndicated newspaper column, newsletter, past TV series and a popular website, Terry Kovel and Kim Kovel are, without a doubt, America's leading popular authorities on antiques and collectibles. "Kovels' Antiques & Collectibles Price Guide 2015" is a valuable resource to help collectors make wise decisions and save and money. Look for it at Kovels.com and in bookstores today!
About the Authors:
Terry Kovel is a lifelong collector and expert. She has written more than 100 books on antiques and collectibles. She writes a nationally syndicated newspaper column, a subscription newsletter and a weekly e-newsletter. She lives in Ohio.
Kim Kovel, daughter of Terry and Ralph Kovel, grew up in a house filled with antiques and traveled regularly to shows and flea markets all over the country. Kim lives in Florida in a 1950s house.
About Kovels.com
Kovels.com, created by Terry Kovel and Kim Kovel, provides collectors and researchers with up-to-date and accurate information on antiques and collectibles. Kovels' Antiques was founded in 1953 by Terry Kovel and her late husband, Ralph. Since then, Kovels' has published some of America's most popular books and articles about antiques, including the best-selling "Kovels' Antiques and Collectibles Price Guide." The brand new 2015 edition is now available in bookstores and in the online shop at Kovels.com. Ralph and Terry were featured in three TV series about antiques and collectibles, The most recent was "Flea Market Finds with the Kovels" on the HGTV cable channel. The Kovels' website, online since 1998, offers 900,000 free prices and includes a free weekly email, "Kovels Komments." It give readers a bird's-eye view of the market through the latest news, auction reports, a Marks Dictionary, readers' questions with Kovels' answers and much more.
Contact Information:
Liz Lillis
216.752.2252
Pr(at)kovels(dot)com