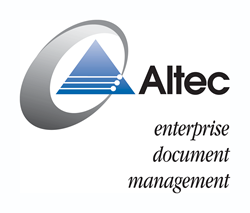 Laguna Hills, CA (PRWEB) September 17, 2014
Altec Products, Inc., a leader in enterprise document management and workflow solutions, announced today their Gold Sponsorship of the 2014 Epicor Prophet 21 World Wide User Group Conference, CONNECT 2014. The annual conference will take place in Dallas, TX at the Sheraton Downtown Dallas from September 21 – 23 and is organized and hosted by the Epicor Prophet 21 World Wide User Group (P21WWUG), a non-profit organization comprised of members from more than 900 companies in the United States and Canada. The P21WWUG Board has exclusively designed the event to facilitate information exchange and networking between Epicor Prophet 21 users.
CONNECT 2014 will promote conversation between Prophet 21 customers, experts and independent solution providers, leaving attendees with useful information and tips on their Epicor Prophet 21 software. The conference will include expert- and user-led sessions, a roundtable discussion, chances to discover information about Epicor product development and time to visit providers of complementary products. There will also be additional opportunities to network and exchange information at a cocktail reception on Sunday, September 28 and at a reception on Monday, September 29.
Altec will present a session titled "Go Paperless with doc-linkTM Integrated Document Management Solution for Prophet 21" on Tuesday, September 30 at 1:15pm. The one-hour breakout session will demonstrate how Prophet 21 users can optimize their enterprise resource planning (ERP) software by going paperless—automating filing, simplifying document retrieval and increasing control of files. Altec has provided integrated document management solutions to Epicor users for more than 25 years, and doc-link is designed to benefit any department and any process.
Kevin Dudevoir, Altec Director of Sales, states, "We are proud to attend CONNECT 2014 as a Gold Sponsor and excited to interact with the Prophet 21 community. We look forward to demonstrating how doc-link integrates with Prophet 21 to better streamline business processes."
Altec's Session
Go Paperless with doc-linkTM Integrated Document Management Solution for Prophet 21
Tuesday, September 30 from 1:15pm to 2:15pm
To learn more about the 2014 Epicor Prophet 21 World Wide User Group Conference and/or register, visit http://www.p21ww.org/Default.aspx.
About Epicor Software Corporation
Epicor Software Corporation is a global leader delivering inspired business software solutions to the manufacturing, distribution, retail and services industries. The Company's headquarters are located in Austin, Texas, with offices and affiliates worldwide. For more information, visit http://www.epicor.com.
About Altec
Altec is a leading provider of Integrated Document Management (IDM) solutions to mid-market companies. For more than 25 years, Altec has provided a wide range of accounting-centric paper to paperless solutions including its flagship product, doc-link™, which enables companies to capture, archive, workflow and route structured and unstructured documents to customers, employees and vendors. Altec's comprehensive solutions include IDM, output management, MICR check disbursement and paper documents that serve more than 13,000 customers worldwide. Altec enjoys strong, collaborative partnerships with ERP solution providers like Epicor Software Corporation to provide the most comprehensive, integrated enterprise document management solutions. Altec delivers its IDM solutions through a global network of authorized partners in more than 60 countries throughout the Americas, EMEA and Asia Pacific. Visit Altec at http://www.altec-inc.com, or call April Blankenship at 1-800-997-9921.
# # #
Epicor is a trademark of Epicor Software Corporation, registered in the United States and other countries. Other trademarks referenced are the property of their respective owners. The product and service offerings depicted in this document are produced by Epicor Software Corporation.