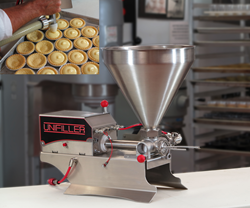 Our expertise lies specifically in safe depositing solutions that keep end goals like reduced downtime and increased throughput in mind.
Vancouver, BC (PRWEB) September 24, 2014
Unifiller, a world leader in the design and production of portioning equipment, is extremely excited at the upcoming launch of its portioning equipment into the Middle East, to be unveiled at Gulfood Manufacturing 2014.
Unifiller designs equipment for use by bakeries and food plants around the world, offering depositors, filling machines, transfer pumps, cookie extruders, decorating equipment and automated production lines. Unifiller specializes in the precise depositing of flow-able products including batters, icings, sauces, salads, pastas and more. Unifiller equipment optimizes production by increasing yield and reducing product waste.
Unifiller Systems is delighted to be exhibiting at this year's Gulfood Manufacturing show, November 9 to 11, held in Dubai, UAE. Gulfood Manufacturing, an extension of the popular Gulfood Show, is the first show of its kind in Dubai, to specifically focus on the production requirements of food producers and processors. According to Unifiller "Gulfood Manufacturing presents a great opportunity to partner with key food producers in a lucrative market. With food safety, rising commodity prices and a focus on reducing waste always at the forefront, Gulfood Manufacturing is the perfect platform for Unifiller. Our expertise lies specifically in safe depositing solutions that keep end goals like reduced downtime and increased throughput in mind."
There are many great reasons to visit Unifiller's booth Z-A149, at this year's Gulfood Manufacturing, among them:
1. Unifiller's newest launch is the compact and versatile Elf-400 bakery depositor. This entry level filler is a compact, table top depositor that delivers fast, hygienic depositing - up to 140 deposits a minute - a perfect time saving piece of equipment. According to Stewart MacPherson, Owner and VP of Sales and Marketing at Unifiller "We introduced the ELF400 to enable even the smallest food producer to access an extremely versatile, high quality depositor at an affordable price." The ELF400 is ideal for those looking to manage raw ingredient costs, increase production yield and portion accurately. An ideal machine for the busy holiday season, the ELF 4000 offers a tool free design with dishwasher-safe parts for quick cleaning & easy changeover.
2. See Unifiller's fastest depositor - the Multistation, in action for the very first time in the Middle East. Officially launched in Germany, the Multistation features multi-piston, servo controlled depositing with deposit nozzles that are volumetrically controlled for consistent, accurate portions every time. Able to portion chunky products and particulates without causing any damage to the product, a 6 port model can portion up to 720 deposits a minute depending of the product! Available in 6 and 8 port configurations, the Multistation will be demonstrated continuously over 3 days at Gulfood Manufacturing.
3. Producers of cakes, cupcakes and other bakery items will love the COM1000i cake decorating machine. The COM1000i can ice a cake in 1.3 seconds AND apply top and bottom decorative borders. This unique decorating machine can be used as a stand-alone decorating machine or incorporates into a flexible cake production line! The COM1000i can mid-fill, top and side ice a cake; and can be fitted with various attachments and nozzles to be used as a standard depositor.
For more information visit Unifiller Systems' Booth Z-A149 in the Zabeel Hall at Gulfood Manufacturing in Dubai, November 9 to 11, 2014 or visit their website at http://www.unifiller.com.