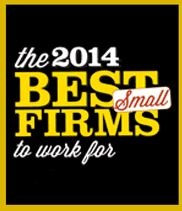 The underlying passion of our associates for "why we do the work we do" is incredible. Our associates are able to drive change in the industry and grow their careers doing it. - Daniel S. Herman, Founder and Managing Principal, Aspen Advisors
Denver, CO (PRWEB) September 16, 2014
Aspen Advisors, a U.S.-based healthcare IT consulting firm, announced today that it has been recognized for its high morale and collaborative culture in the recently published Consulting magazine "The Best Small Firms to Work For 2014." Consulting magazine publishes the popular Best Firms survey annually, with more than 10,000 consultants participating across all major industries, representing more than 350 firms. Extensive employee satisfaction surveys were conducted, and firms were ranked in six categories - firm culture, work/life balance, compensation and benefits, client engagement, career development, and leadership.
The magazine highlights associate feedback about Aspen's culture and talent. One said, "The talent at Aspen is amazing, the culture is strong, and everyone leaves their egos at the door. People here could go anywhere – they've built amazing careers already and could name their price – but they choose Aspen because of their colleagues and the engaging work they'll do and the culture."
Full survey results, including associated charts detailing Aspen's performance, can be found in the September issue.
"To be recognized as one of the best firms in the consulting profession is a point of pride for our entire organization," said Daniel S. Herman, Founder and Managing Principal, Aspen Advisors. "We strive to create the conditions that enable our associates to do their best work to achieve their personal and professional goals. This includes a collegial support network, a focus on professional development, methodologies and toolkits, and education. Our clients know that top talent is attracted to organizations that foster this type of environment, and the industry's best and brightest are who they want working side-by-side with them to help address their top priorities."
Herman adds, "The healthcare industry is in a time of great challenge and change. Aspen is working with the healthcare industry's most dynamic and influential leaders to make substantial improvements. The underlying passion of our associates for "why we do the work we do" is incredible. Our associates are able to drive change in the industry and grow their careers doing it."
This recognition from Consulting magazine is in addition to Aspen's other recent accolades. Aspen was also named to Consulting magazine's "Best Small Firms to Work For 2012" and one of its "2014 Seven Small Jewels". Aspen has also recently been named one of Modern Healthcare's "Best Places to Work in Healthcare" for 2014 – the fourth consecutive year the firm has received this honor.
About Aspen Advisors
Aspen Advisors is a professional services firm with a rich mix of respected industry veterans and rising stars who are united by a commitment to excellence and ongoing dedication to healthcare. We work with healthcare organizations to optimize the value of their information technology investments. Our experienced team is highly skilled in all aspects of healthcare technology. We understand the complexities of healthcare operational processes, the vendor landscape, the political realities, and the importance of delivering projects successfully – the first time. Every client is important to us, and every project is critical to our reputation. Established in 2006, the firm has earned accolades for our culture, service delivery, and growth. Aspen Advisors was named among the top 20 in Modern Healthcare's "Best Places to Work in Healthcare" in 2011, 2012, 2013, and 2014 and earned several honors from Consulting magazine, including being named a "Best Firms to Work For" in 2012 and one of the "2014 Seven Small Jewels". Our hallmarks are top quality service and satisfied clients; we're proud of our KLAS rankings and that 100% of our clients are referenceable. We've consistently ranked highly in KLAS' "Best in KLAS Awards"; in 2012 and 2013, Aspen was among the top three firms in KLAS' Overall Services Firms Ranking. Learn more at http://www.aspenadvisors.net. Follow Aspen on Twitter at http://www.twitter.com/AspenAdvisors.