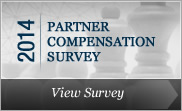 MLA is pleased to be a leading contributor to the dialogue on partner compensation and satisfaction.
HANOVER, Md. (PRWEB) September 16, 2014
Major, Lindsey & Africa (MLA), the world's leading legal search firm, today announced the results of its 2014 Partner Compensation Survey. The Survey, which was a follow-up to MLA's ground-breaking 2010 and 2012 Surveys, represents the most comprehensive effort ever undertaken to identify ranges of partner compensation in the U.S., the criteria law firms use to determine partner compensation, and the satisfaction of law firm partners with their compensation and compensation systems.
"MLA is pleased to be a leading contributor to the dialogue on partner compensation and satisfaction," said Jeffrey A. Lowe, the author of the Survey and the Global Practice Leader of MLA's Law Firm Practice. "Our Partner Compensation Surveys and Lateral Partner Satisfaction Surveys have proven to be invaluable resources both to individual partners and members of firm management. The data we share with the industry simply is not available anywhere else, and our partnership with ALM Legal Intelligence has allowed partners to share this information confidentially and anonymously."
Nearly 2,100 partners from more than 60 cities across the U.S. responded to the Survey, representing Equity and Non-Equity partners, open and closed compensation systems, and lockstep and non-lockstep firms. The full Report, including related articles, data and statistics, and previous Reports, can be found online at http://www.mlaglobal.com/partner-compensation-survey/2014.
The Survey was sponsored and developed by Major, Lindsey & Africa in association with ALM Legal Intelligence (ALI), the research arm of ALM Media. ALI allowed respondents to answer confidentially and anonymously, and MLA at no time was made aware of respondents' names or firms, either individually or in the aggregate.
Key findings include:
1. Average compensation for all respondents was $716,000, up 5% from 2012 ($681,000). However, median compensation for all respondents was only $475,000. The average billing rate for all respondents was $608, up $24 (+4%) from 2012 ($584).
2. In terms of compensation satisfaction, 27% of partners classified themselves as Very Satisfied, 53% classified themselves as Somewhat Satisfied, 15% said they were Not Very Satisfied, and 5% were Not at all Satisfied. These compensation satisfaction levels are very similar to the results of the 2010 and 2012 Surveys and the findings of our most recent Lateral Partner Satisfaction Survey, where 86.5% of all lateral partners reported that they were either Very Satisfied or Somewhat Satisfied with their current firms. (View the 2014 Lateral Partner Satisfaction Survey at http://www.mlaglobal.com/community/thought-leadership/lateral-partner-satisfaction-survey-2013.)
3. Male partners continue to significantly outpace females in compensation: $779,000 (+6%) for males vs. $531,000 (+7%) for females in 2014, compared to $734,000 vs. $497,000 in 2012. Median compensation for males was $525,000 vs. $375,000 for females. Male partners reported average originations of $2.19 million in 2014, representing a gain of 8% over 2012. Conversely, reported originations for females declined 12%, from $1.41 million in 2012 to $1.24 million in 2014.This nearly 77% spread in originations between males and females is significantly higher than the 50% spread reported in 2010 and the 44% spread reported in 2012. Median originations for males were $1,150,000 vs. $650,000 for females.
4. The compensation gap between Equity partners and Non-Equity partners continues to grow. Equity partners averaged $971,000 in compensation in 2014, vs. $338,000 for Non-Equity partners. While compensation for Non-Equity partners has remained essentially flat since 2010 ($336,000), compensation for Equity partners has jumped nearly 20% during that same period (from $811,000 to $971,000). Median compensation for Equity partners was $675,000, as compared to $325,000 for Non-Equity partners.
5. Average originations for all respondents were $1,957,000, up 3% from 2012 ($1,893,000). Median originations for all respondents were $1,050,000. Equity partners reported average originations of $2.81 million (+7%), versus $670,000 for Non-Equity partners (-6%). Median originations for Equity partners and Non-Equity partners were $1,650,000 and $450,000, respectively.
6. Labor & Employment partners continue to report the lowest average compensation ($503,000), compared to a high of $893,000 for Corporate partners.
7. Partners in Open compensation systems continued to report significantly higher average compensation ($843,000) compared to partners in Partially Open ($574,000) and Closed ($484,000) systems, and the compensation gap between Open and Closed system partners remains a surprising 74%.
8. The disparity in compensation and compensation satisfaction across cities continues to be quite pronounced. Average compensation ranged from a low of $438,000 in Seattle to a high of $1,167,000 in Silicon Valley. Unlike 2012, when compensation rose in virtually every city compared to 2010, the 2014 results showed wide swings in partner compensation among cities, with Philadelphia, Los Angeles and Chicago showing the largest gains, and Dallas and Seattle showing the most significant declines. Median originations for males were $1,150,000 vs. $650,000 for females.
9. Cronyism continues to be, by far, the most significant reason for dissatisfaction with compensation satisfaction, outpacing all of the other enumerated reasons combined. However, while perceived cronyism apparently remains high, the percentage has fallen from 40% when MLA first measured it in 2010 to 30% in 2014.
10. Originations continue to drive compensation decisions: 74% of all respondents noted that originations were a Very Important factor in determining compensation, 66% of all respondents perceived it to be the most important factor (working attorney receipts was next closest at 21%) and 55% of all respondents cited originations as becoming more important in the compensation process. These numbers are virtually identical to the 2012 results.
The 2014 Survey Report also includes two related articles, Changes Law Firm Partners Would like to See in their Compensation Systems, by Ron Nye, Managing Partner of MLA's Chicago office, and Show Me the Money, by Natasha Innocenti, leader of MLA's Northern California Partner Practice Group, an examination of the continuing disparity in compensation between men and women, even when accounting for comparable levels of business.
Related Articles:

Biographies:

About Major, Lindsey & Africa
Founded in 1982, Major, Lindsey & Africa (MLA) is the world's largest and most experienced legal search firm. Combining local market knowledge and a global recruiting network, MLA has earned recognition for its track record of successful General Counsel, Corporate Counsel, Partner, Associate and Law Firm Management placements. MLA also provides law firms and companies with highly-specialized legal professionals on project, interim and temporary-to-permanent hire basis. Committed to providing full service in response to the talent needs of its clients, MLA also provides executive search services through its affiliate, Allegis Partners. With offices throughout the U.S., Hong Kong, London and Tokyo, MLA recruiters are dedicated to understanding and meeting client and candidate needs while maintaining the highest degree of professionalism and confidentiality. MLA considers every search a diversity search and has been committed to diversity in the law since its inception. For these reasons, MLA was voted "Best Legal Recruiter" by readers of The National Law Journal. To learn more about MLA, visit http://www.mlaglobal.com. To learn more about Allegis Partners, visit http://www.allegis-partners.com.
###