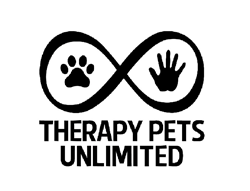 Baltimore, MD (PRWEB) September 17, 2014
Headquartered in Baltimore, Maryland, Therapy Pets Unlimited (TPU) is expanding their reach across the country.
"The past two weeks have been amazing," says Vicki Rummel, Executive Director. "We have grown to over 400 evaluators in 46 states, and we're still growing! We're looking for more evaluators in the Midwest and South Dakota and Vermont. And from there, we need qualified therapy pets and facilities where our volunteers can visit."
TPU provides one-of-a-kind treatment to facilities such as nursing homes and hospitals in order to help people ease health problems, assuage stress and cope with the pain of grief and loneliness through animal-assisted rehabilitation and activities.
According to the National Center for Health Statistics, more than 50% of nursing home residents have no close relatives, and 46% have no living children. These two facts are a major reason why an estimated 85% of nursing home residents never have visitors. TPU strives to make a difference in those residents' lives by bringing the comfort and companionship of pet therapy directly to them.
Vicki notes, "With the progress we have made, we are now focusing on registering facilities who would want the assistance of therapy pet visits."
TPU's new website features pages where facilities and their facility coordinators, pet evaluators, and volunteers can register with the charity. Facilities who wish to participate will need someone from the organization to register as the point of contact for TPU, known as the Facility Coordinator, who will help set up time and dates for volunteers.
"Nursing homes, assisted living homes and hospitals are encouraged to consider the great benefits of what our organization does. Even facilities such as schools and libraries can benefit by using pet therapy to relieve stress in students. And since we're a non-profit, our services come at no cost!" Vicki states.
They also encourage anyone with professional pet training experience to register as an evaluator and support those with a friendly pet or two to register to become a volunteer if their pet passes evaluation. A therapy pet doesn't need to be obediently perfect but they need a solid friendly temperament and an ability to shine in various situations. Uniquely, TPU does not discriminate against any species or breed; if the pet can pass the evaluation, it can be a therapy pet.
"We still have a lot of work to do, but we are off to a fantastic start," Vicki says.
TPU will be at a number of local events in the coming future. Please visit their event page to support their fundraisers and events.
For more information, to volunteer or to donate please visit their website http://www.therapypetsunlimited.org. You can also find them on Facebook and Twitter @TherapyPets.
About Therapy Pets Unlimited Inc.
Therapy Pets Unlimited is a not-for-profit 501(c)(3) (pending) volunteer organization that focuses on easing grief, stress and loneliness through friendly pet visits.