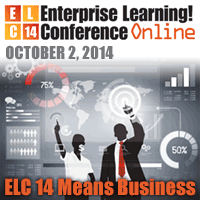 Some of the best ideas are those shared between attendees at our events
Corona, CA (PRWEB) September 16, 2014
Elearning! Media Group announced the Enterprise Learning! Conference Online 2014 Event (ELC) will host new live sessions, two on-demand web seminars and new collaborative networking rooms on October 2nd, 2014. The live virtual event will open from 6:30 AM – 2:00 PM PT and industry executives can attend free by registering free at http://engage.vevent.com/index.jsp?eid=630&seid=2417.
ELC Online offers the online advantage to attendees who might not otherwise be able to attend an onsite event. Seventy-two percent (72%) of executives report they were unable to attend a physical event because of budget or time constraints; yet, 100% would attend a virtual option if offered, according to Elearning! Magazine Survey.
The October 2nd, live virtual event features four sessions showcasing open collaborative learning, 2014 industry trends, positive intelligence for training, leadership and the business of learning. The keynote session titled Positive Intelligence: How it Revolutionizes Training reveals a ground breaking science of positive thinking and how & why it's a highly effective method for organizations to develop and activate their highest potential. Discover first-hand how this new method of Positive Intelligence enhances learning & employee engagement.
"Some of the best ideas are those shared between attendees at our events. The more attendee engagement we have within the virtual event community, the more satisfying it will be. We are committed to increasing the engagement and accessibility of the conference content to executives anywhere," summarizes Catherine Upton, CEO, Elearning! Media Group.
The new networking feature has expanded from text chat forums to live virtual classroom where featured speakers and industry leaders can dialogue with attendees in an open forum. Attendees can also engage in Tweet Chats inside of each session, chat with each other and query speakers in real time. (Tweet hash tag #ELC14) Plus, attendees can use the Skype integration, which allows video chat between one another.
"Our community thrives on collaboration as noted by the high level of interactions within our virtual events from social media sharing, speaker chats and session Q&As. The networking feature will add that next level of live engagement executives expect in today's online event experience," reports Upton.
Registration Open Now
ELC Online registration is now open at http://engage.vevent.com/index.jsp?eid=630&seid=2417. Registration is complimentary for practitioners in the training, talent, e-learning, workforce, human resources or executive management. Vendors or suppliers do not qualify.
About Elearning! Media Group
Elearning! Media Group is owned by B2B Media Group LLC and consists of twelve media products including: Elearning! Magazine, Government Elearning! Magazine, eMagazines, e-mail newsletters, Alerts, Website, Web Seminar Series, Elearning! Institute, Enterprise Learning! Summits and Enterprise Learning! Conference. Elearning! Media Group serves the $160 billion enterprise learning market. In combination, these brands reach more than two million executives, practitioners and professionals all evaluating or implementing enterprise learning and workplace technologies across their organizations each year. Suppliers and practitioners can follow us: online at http://www.2elearning.com; on Twitter: 2elearning, #ELC14, #ELS14; via Facebook: Elearning!-Magazine; and, LinkedIn: Elearning! Magazine Network or Enterprise Learning! Events.
About Enterprise Learning! Events
Since 2008, Enterprise Learning! Events bring onsite and online audiences together to learn, network and share. Mark your calendar for Enterprise Learning! Conference Online event, the exclusive learning and workplace technology marketplace, October 2nd, 2014 . Register free at http://engage.vevent.com/index.jsp?eid=630&seid=2417. Enterprise Learning! Conference & Summits host the Best of Elearning! Awards and Learning! 100 Awards. The Enterprise Learning! Summit virtual editions are slated for January 2014, and March 19, 2015. For more information about the Enterprise Learning! Conference visit http://www.elceshow.com.