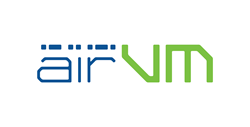 AirVM simplifies and accelerates cloud sales for solution providers, software companies and multi-tier channels.
Ottawa (PRWEB) September 18, 2014
AirVM, a world class cloud enablement software company, today announced that AirSembly was honored with a Best of VMworld 2014 Award as the finalist in the category of public and hybrid cloud computing technologies.
AirSembly is a commercialization platform for solution providers, software companies and multi-tier channels that want to quickly bring cloud services to market. The AirSembly platform makes it incredibly simple to brand, customize, sell, provision, manage and bill for all types of cloud services (IaaS, PaaS, SaaS, DaaS), integrate these into your existing business workflows, and go to market immediately. AirSembly leads the industry as the only commercialization platform that is purpose-built to support multi-tier channel business models, from distribution to direct and everywhere in between.
The Best of VMworld 2014 Awards recognize the most innovative and high-performing products in the server virtualization, cloud computing and end-user computing markets as judged by a panel of experts and editors from TechTarget's SearchServerVirtualization.com. The Public and Hybrid Cloud Computing Technologies category is open to products that support cloud infrastructure that is made available to the general public or products that enable hybrid clouds, which facilitate data and application portability among private and public clouds. AirVM was chosen due to its innovation, value, performance, reliability and ease of use.
"AirVM is thrilled to receive this prestigious award," said Joshua Vautour, CEO of AirVM. "Our team commits each day to delivering the best product to empower our channels to sell their cloud services through any go-to-market model. This win, along with the ongoing validation and praise we receive from our customers throughout the world, is an accomplishment we are proud of."
About AirVM
AirVM is the world's leading cloud enablement software company. We build software that makes it incredibly simple for our solution providers, software companies and multi-tier channels to sell, brand, customize, manage and bill for their cloud services. Our company leads the global industry as the only cloud platform capable of supporting all aspects of cloud business sold through traditional multi-tier distribution as well as direct to end customer models. Thousands of resellers and customers have processed millions of transactions through the AirVM platform and hosted service. AirVM is a privately held company based in Kanata, Ontario, Canada. For more information, please visit http://www.airvm.com and follow us @AirVM.
About SearchServerVirtualization.com
SearchServerVirtualization.com™ is an enterprise virtualization-focused website providing IT professionals and the community with the latest server virtualization news, articles, tips, and expert advice. Other virtualization information includes webcasts and industry white papers covering all areas of server virtualization, such as virtualization platforms, server hardware, managing virtual environments, virtualization architecture and strategies, application issues, and more.
Its sister site SearchVMware.com™, is dedicated to helping IT organizations evaluate products, services and business strategies that can lead them to successful implementations of virtualization technologies in VMware environments. And sister site SearchVirtualDesktop.com™ is the premier source for information on desktop virtualization, application virtualization, and virtual desktop infrastructure.
About TechTarget
TechTarget (NASDAQ: TTGT) is the Web's leading destination for serious technology buyers researching and making enterprise technology decisions. Our extensive global network of online and social media, powered by TechTarget's Activity Intelligence™ platform, allows technology sales and marketing teams to leverage real-time purchase intent data to more intelligently engage technology buyers and prioritize follow-up based on active projects, technical priorities and business needs. With more than 120 highly targeted technology-specific websites and a wide selection of custom advertising, branding, lead generation and sales enablement solutions, TechTarget delivers unparalleled reach and innovative opportunities to drive technology sales and marketing success around the world.
TechTarget has offices in Atlanta, Beijing, Boston, Cincinnati, London, Munich, Paris, San Francisco, Singapore and Sydney. To learn how you can engage with serious technology buyers worldwide, visit techtarget.com and follow us @TechTarget.