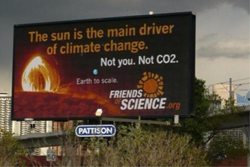 "Climate Catastrophe Cancelled" – humans affect climate somewhat, but it is the sun, not you or CO2 that drives climate change
Calgary, Alberta, Canada (PRWEB) September 17, 2014
Friends of Science Society of Calgary has published a blog post expressing its opinions and deep concerns about the publishing policies of the Alberta Wilderness Association (AWA) in light of the rejection of the "Friends" request to rebut a recent July 16, 2014 derogatory commentary about Friends of Science climate change billboard, published on page 14 of the AWA's Wild Lands Advocate magazine.
"Among other things, we object to the false implication in the article that Friends of Science believes that CO2 emissions have no effect on climate. We never say that. We say the sun and ocean oscillations are the main drivers of climate with CO2 causing only a small portion of the 20th century warming,"says Ken Gregory, director of research for Friends of Science.
Friends of Science is a member-funded non-profit and has hosted speakers whose views on climate change and global warming diametrically oppose theirs - in the interests of fair and open debate.
"Alberta Wilderness Association is funded by taxpayers and has charitable tax status - special rules apply," Gregory continues.
"A number of these charities loudly beat the climate change catastrophe drum," says Gregory, "but Dr. Judith Curry testified to the US Senate on Jan. 16, 2014 that there's been no global warming in over 16 years, despite a rise in carbon dioxide," says Gregory.
Gregory goes on to say: "Many climate researchers had assumed that natural climate change is weak, but the "hiatus" in global warming demonstrates that human-caused climate change is so feeble that it can easily be overwhelmed by natural cooling forces of low solar activity and changing ocean currents."
Friends of Science point to the Montreal Gazette as a recent example of fairness in publishing.
"The Montreal Gazette published two items this spring related to the work of Shaun Lovejoy. We disagreed with his scientific perspective and with how we were described," says Gregory. "The Gazette was very open to publishing our rebuttal which appeared Aug. 28, 2014."
Friends of Science cite the early example of a public debate in print in 2002, about the Kyoto Protocol, published in the PEGG – the magazine of the Association of Professional Engineers and Geoscientists of Alberta.
"The debate was conducted between two representatives of the Pembina Institute (for "The Point") and three of our scientific advisers (for "The Counterpoint")," says Gregory. "The Kyoto rhetoric of "The Point" side has been proven false over the years while the scientific argument by our advisers has strengthened. What's important is that both sides are presented."
Gregory states; "Several years ago we debunked the myth of a climate catastrophe with our science documentary "Climate Catastrophe Cancelled" – humans affect climate somewhat, but it is the sun, not you or CO2, that is the main driver of climate change."
About
Friends of Science have spent a decade reviewing a broad spectrum of literature on climate change and have concluded the sun is the main driver of climate change, not carbon dioxide (CO2). The core group of the Friends of Science is made up of retired earth and atmospheric scientists.
Contact:
Friends of Science Society
P.O. Box 23167, Mission P.O.
Calgary, Alberta
Canada T2S 3B1
Toll-free Telephone: 1-888-789-9597
Web: friendsofscience.org
E-mail: contact(at)friendsofscience(dot)org