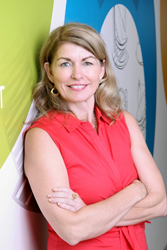 Atlanta, Georgia (PRWEB) September 18, 2014
In a continued charge to enhance organizational development, Kids II—a global leader in infant and toddler products—has appointed Juanita M. Biasini as Chief Human Resources Officer (CHRO). A seasoned professional, Biasini will drive a clearly defined innovative human resources and development strategy to align Kids II's organizational structure with its corporate objectives and dynamic growth strategy.
The first CHRO for Kids II, Biasini will oversee the company's worldwide human resources efforts, including employee relations and development and recruitment of top talent, as well as strengthening the student and college outreach programs—an important commitment for the company. Biasini will also be responsible for driving the global human capital strategy to support Kids II's 500 global employees. As Kids II continues to experience double-digit annual growth across six continents, including the opening of a new European headquarters this winter, Biasini's arrival is timely.
With a unique culture at the core of Kids II, Biasini will spearhead initiatives to reinforce and cultivate an environment of dedication, collaboration, entrepreneurship and fun as the company attracts and retains top talent across the globe.
"We are looking forward to Biasini joining Kids II during at a critical time of focus and commitment as we make tremendous strides toward our future of deliberately developing our employees and preserving our culture and keeping us a united team worldwide as we rapidly grow across the globe." said Ryan Gunnigle, CEO of Kids II. "Her expertise will be invaluable in attracting, retaining and engaging with the talent needed to continue to nurture and drive our creativity and growth."
Biasini will work closely with the entire executive staff and serve as a key advisor and strategic partner reporting directly to Gunnigle. Through her leadership, Biasini will provide expertise in all aspects of HR management, by implementing policies and practices to maximize employee performance and career development.
With over 20 years of experience, Biasini brings leadership and knowledge in the areas of organizational development, talent management, labor and employee relations, compensation and benefits, succession planning and leadership, health and safety, and payroll.
Biasini will be based at Kids II's headquarters in Atlanta. For more information about Kids II or to arrange for an interview with Juanita Biasini, please contact Theresa Costas at theresa(dot)costas(at)kidsii(dot)com or call (678)597-1604.
About Kids II, Inc.
Kids II has a 40-year history of developing industry-changing innovations for families across the globe and has quickly becoming a world-leading baby and infant product company. The brand portfolio strength runs deep with seven brands under the Kids II umbrella: Bright StartsTM, InGenuityTM, Comfort & HarmonyTM, DisneyTM, Baby EinsteinTM, OballTM and TaggiesTM. Through its brands, Kids II is a powerhouse of creativity, diversity and innovation, uniquely matching the individual needs of every parent and baby. Headquartered in Atlanta, Kids II spans globally with 13 global offices in six continents serving customers in more than 72 countries.
Learn more about Kids II, like our Facebook page, or connect with us on LinkedIn.