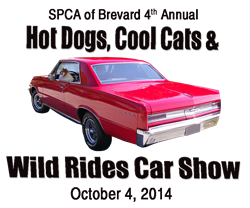 There will also be 25 trophies awarded.
Titusville, Florida (PRWEB) September 17, 2014
The SPCA of Brevard fourth annual Hot Dogs, Cool Cats and Wild Rides Car Show will be on Saturday, October 4, 2014 at Fox Lake Park in Titusville from 1-4pm, with registration beginning at 10am. Over one hundred classic, vintage and muscle cars participated in last year's event and many more are expected this year. This year's event will be held in conjunction with the Kiwanis Kountry Jamboree and BBQ Competition.
Participants who wish to register a car for the show can download registration forms at http://www.spcabrevard.com or stop by the SPCA to pick one up. Through September 29th, the fee to register is only $15 or to register at the event the fee is $20. The first 100 cars registered will receive a t-shirt, a free ticket to enter in the drawing to win an iPad Mini, a dash plaque and a meal ticket. There will also be 25 trophies awarded, including The Cat's Meow, Club Participation, Best of Show, Best Corvette, Best Mustang, Best Paint, Best Truck, Best Pre-1949, 1950-1959, 1960-1969, 1970-1979, Post-1980, and 13 Participants' Choice.
This year will also include a poker walk around Fox Lake Park, with a $25 cash prize to the winner. Admission is free to the public and all event proceeds will go towards the care of the homeless animals at the SPCA of Brevard. Plus, anyone who brings a bag of clumping cat litter will receive a free ticket to enter the drawing for the iPad Mini! For more information, visit http://www.spcabrevard.com or contact Teri Scott at 321-567-3615 extension 246.
SPCA of Brevard
6035 Sisson Road
Titusville, Florida 32780
321-567-3615
http://www.spcabrevard.com
Fox Lake Park
4400 Fox Lake Rd,
Titusville, Florida 32796
###
About SPCA of Brevard
The SPCA of Brevard is a private, non-profit organization with the mission of "protecting and providing a voice to the homeless animals of Brevard County." It receives no funding from the government and relies on private donations to be able to serve the community. It operates thrift stores in Titusville and Merritt Island, which are stocked solely with donations for resale to help fund adoption center locations.
Founded in 1979 in Titusville, Florida, the SPCA is the largest private no-kill animal rescue group in Brevard, will find homes for more than 2000 animals this year. It is the first adoption facility with free-roaming cat rooms in the County, allowing adopters to interact with the cats in a more home-like setting. Its new Adoption Center in Titusville is over 11,000 square feet and sits on nearly three acres. Additionally, it operates two satellite Cat Adoption Centers in the Melbourne and Merritt Square Malls, which have contributed to a 241% increase in adult cat adoptions. Additional adoption statistics can be found here. The SPCA of Brevard Clinic also provides reduced-price vaccines to the public and has performed more than 55,000 low-cost spay/neuter surgeries since 1999.
For more information, visit http://www.spcabrevard.com.