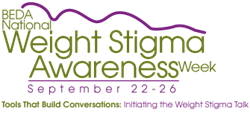 It's a vile crime people are labeled, taunted, or penalized for body size or shape and a shame our society sanctions this grievous name calling and shunning," says Chevese Turner, BEDA founder/CEO.
Annapolis, MD (PRWEB) September 18, 2014
The Binge Eating Disorder Association (BEDA) is hosting the Third Annual Weight Stigma Awareness Week (#WSAW2014) September 22 – 26 at http://www.bedaonline.com.
This year features useful tools for individuals and service providers to prevent or stop weight bias and weight stigma from occurring in different settings, including: medical, psychotherapy, school and kids' programs, movement and physical therapy, and nutrition guidance settings.
Weight bias and weight stigma are social justice and civil rights issues that many people are uncomfortable broaching within the professional relationships in their life. People often feel intimidated when contradicting an "expert" or when being treated poorly due to their size. BEDA's Weight Stigma Awareness Week creates a safe forum for those discussions to happen, to provide resources to professionals and individuals that address how to have those encounters, and to prevent weight bias from impacting life for every size and shape of person.
Weight bias is the external expression of feelings a person holds about certain body shapes. Weight bias contributes to weight stigma, the internalized negative beliefs about yourself. Weight bias says, "I believe people of this shape are bad, because they are (insert a negative word describing body size here)." Weight stigma says, "I believe I am bad, because I am shaped this way."
"It is a vile crime that people are labeled, ridiculed, or penalized for their body size or shape and a shame that our society sanctions this egregious name calling and shunning," says Chevese Turner, founder and CEO of the Binge Eating Disorder Association (BEDA). "BEDA is committed to exposing weight bias as the prejudice it is and starting the talks to stop it for good. We invite you to participate in our talks and share your stories to help us stop weight bias and weight stigma."
This week's schedule includes the following featured toolkits accompanied by original posts each day by experts in related fields:
Monday – Weight Stigma in Medical Settings
Tuesday – Weight Stigma in Psychotherapy and Mental Health Settings
Wednesday – Weight Stigma in Schools and Kids' Programs
Thursday – Weight Stigma in Physical Therapy and Movement Settings
Friday – Weight Stigma in Nutrition Professionals Settings
Contributing authors include:
Wendy Oliver-Pyatt, MD, FAEDS, CEDS
Ragen Chastain, Author and Activist
Dr. Cynthia Bulik, PhD, FAED
Deb Burgard, PhD, FAED
Kathy Kater, LICSW
Lizabeth Wesely-Casella, Founder, BingeBehavior.com
Jessica Setnick, MS, RD, CEDRD
Marsha Hudnal, MS, RD, CD
Jeanette DePatie, Plus-Size Fitness Instructor
Angela Meadows, MSc
BEDA has been a pioneer in weight stigma advocacy and resources. Lead by Founder and CEO Chevese Turner, BEDA is dedicated to creating awareness and participating in policy creation. Most recently BEDA co-led the Weight Stigma Stakeholders Group to guide the Let's Move! campaign regarding weight stigma in children's programs.
For more information about the Binge Eating Disorder Association (BEDA) or the Weight Stigma Awareness Week (#WSAW2014), visit http://www.bedaonline.com or contact:
Chevese Turner
410-647-1456
chevese.turner(at)bedaonline(dot)com
Lizabeth Wesely-Casella
202-415-6987
admin(at)bingebehavior(dot)com